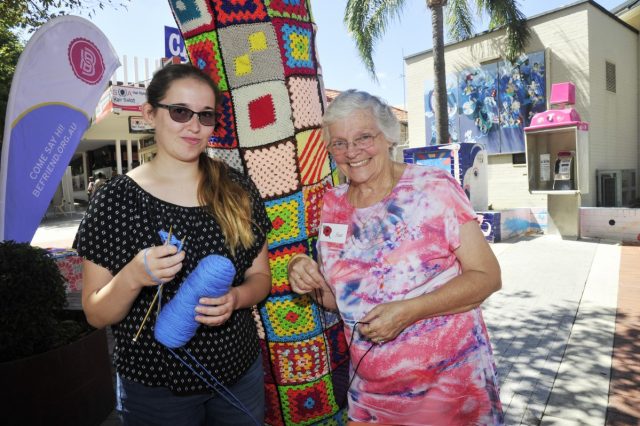 A tree in Armadale's Jull Street Mall was given a pop of colour last week in a bid to bring a little joy to passers-by. 
Members of the Armadale knitting and crocheting group have been busily creating woollen squares with the end goal of yarn bombing a tree. 
Yarn bombing is a type of street art, which is often used to cover objects or structures in public places. 
Member Sue Bouwmeester said the group was approached by Artists Retail Collective to create an event that would help reactivate the mall. 
"We managed to make enough squares to yarn bomb two trees in the mall," she said. 
"When we put up the display last Saturday a number of people were asking us about the display and were generally interested in what we were doing." 
Ms Bouwmeester said she hoped the project would make people happy and encourage people to look up instead of walking through the mall with their head down. 
"The city has said we can use as many trees as we like, but if someone complains it has to come down," she said. 
"We have a number of purple and pink crocheted and knitted poppies left over from last year's Remembrance Day 60,000 poppy campaign which we hope to link up around a tree." 
The group meets at Armadale Library on alternate Thursdays from 9.30am to 11.30am.