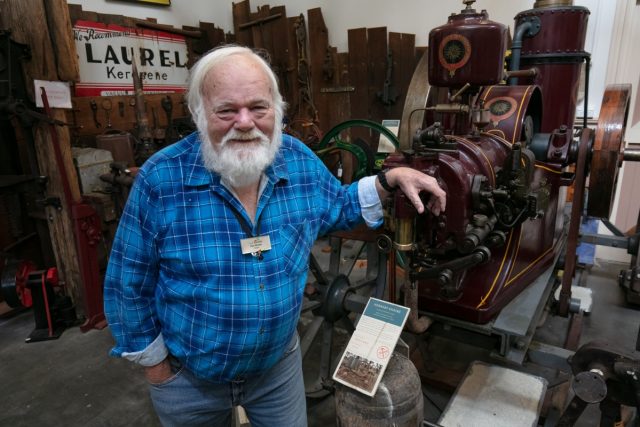 As part of National Volunteers Week, local governments are highlighting some of our legendary quiet achievers who have helped significantly by freely giving their time to improve and protect the community.
One such local legend is Ken Brown, who has been involved with projects for work and volunteering around the City of Armadale region since the 1970s.
For the last six years Mr Brown has volunteered at the Visitor Centre in Armadale and gives free tours of the Bert Tyler Vintage Machinery Museum and gives Morse code demonstrations with the tours that are informative.
"People come into the Visitor Centre and I tell them places to have a look at, things about Armadale and if they tell me what they want to do then I show them or tell them what to do, where to go and how to get there," he said.
"There's things in Armadale that are extremely historical which people don't know about."
Mr Brown has been heavily involved with Armadale's development, including in the early days.
"I helped commission and install the bridge at Minnawarra Park, and it was the longest of its type in the world when it was installed" he said.
"We also moved the Old School there and that was only the second time in the Southern Hemisphere a brick building had been picked up in total and completely relocated and it was the first successful one because during the first trial the building collapsed."
"Armadale Road was originally a railway line that took timber and quarried stone from Armadale to Fremantle.
"In the 1970s, all of the heavy traffic went through Jull Street on the way to Fremantle and I thought this is ridiculous you can't have this traffic going through the middle of town," he said.
"A couple days later I was down at Denny Avenue and looked across and saw this space with a 54-inch water main next to it, so I figured I'd build a road.
"So that's how we made Armadale Road and then as an entry statement I suggested we make Minnawarra Park."
Mr Brown moved to Darling Downs recently but still volunteers his time to the Armadale community.
Volunteers are vital to the operation of Armadale as a city and are the life blood to many organisations according to the City of Armadale Mayor Ruth Butterfield.
"Volunteers give freely of their time and are the life blood to many organizations and community groups within the City," she said.
"Many organisations rely heavily on volunteers who are essential to their long-term resilience and ability to thrive and we are thankful for their efforts in making Armadale a better place to live