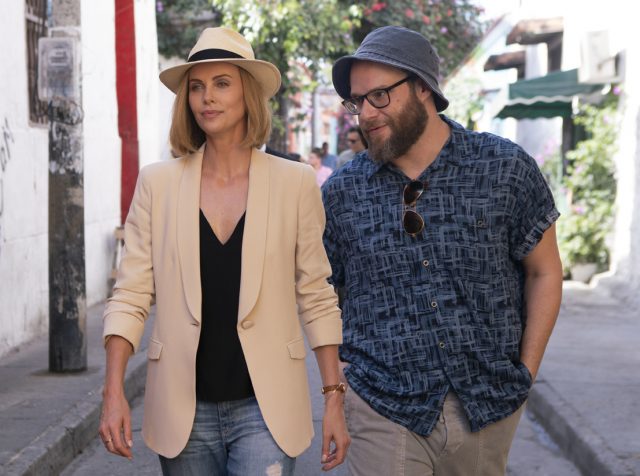 Finding out the company he works for will be bought out by an international media mogul, which goes against all his journalistic beliefs, Fred Flarsky (Seth Rogen) quits his job leaving him unemployed in the latest comedy Long Shot. 
A night out with his friend Lance (O'Shea Jackson Jr.) changes his life completely, as from across the room he spots his childhood crush and babysitter Charlotte Field (Charlize Theron), who is now the Secretary of State in the US government. 
The chance meeting turns into a career-altering move for Fred when Charlotte offers him the opportunity to be her speech writer, as she prepares to make a run for the presidency. 
What follows is a mishmash of romance, comedy and even some edge-of-your-seat action scenes, as the pair, along with Charlotte's other staff, Tom (Ravi Patel) and Maggie Millikin (June Diane Raphael), do everything in their power to get Charlotte to the top spot. 
At times laugh out loud funny, however, filled with crude humour, Long Shot takes you on a whirlwind rollercoaster, as a couple whose relationship really shouldn't work on paper, work together to defy the odds and navigate around the world confronting unexpected and sometimes dangerous incidents. 
If you are expecting a movie with investigative journalism and a polished presidential campaign, then Long Shot is definitely not for you.
But, if you want a movie where you can sit back, chill out, laugh like there is no tomorrow and switch off, then be sure to give it a go. 
Rating: 3.5 out of 5 stars 
Rated: M 
Distributor: Studiocanal Australia 
Release date: May 2