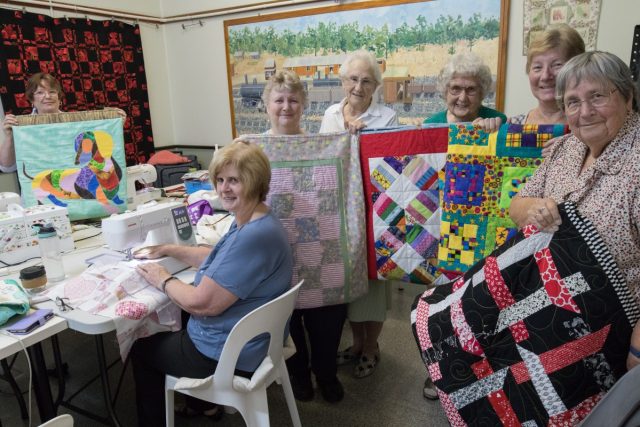 A group of talented ladies are hoping a celebratory morning tea later this year will bring renewed interest to their local arts and craft group. 
Mundijong Arts and Craft Group has been operating out of the old railway station on both sides of the track for the past 30 years. 
Secretary Gwen Tonkin said the Paterson Street home provides the group's 20 or so members, who are mostly retirees, a chance to learn new skills and meet like-minded women in their community. 
"Once a month on a Monday we have a book club, once a month our quilting gathers together and we also have members there from Thursday through to Saturday who do a variety of arts activities," she said. 
"It is our female version of a men's shed … I mean why sit at home and do your knitting when you can come down to the centre and have a nice cup of coffee and a biscuit, have a chat and meet other women and learn something new." 
Two of the group's members were recognised at this year's Australia Day celebrations, with Maxine Martin winning the Community Seniors Citizen of the Year award and Joan Gardner awarded the Clem Kentish Community Service award. 
Maxine Martin plays a major part in the group's quilting program, which provides various items for those in need in the Serpentine Jarrahdale community. 
Mrs Tonkin said the quilting ladies have made more than 100 quilts, boxes of children's pyjamas and knitted toys for the local crisis centre, with each quilt displaying a special message of hope for the recipient. 
Moving forward, Mrs Tonkin said the group is hoping to recruit new members and new art workshops such as painting and pottery. 
"We used to have a very active arts group with an art teacher but that has fallen by the wayside," she said. 
"We have also held a few workshops in the past including felting workshops, making your own face creams and silk dyeing." 
The groups 30th birthday celebrations will take place on June 22 from 10.30am. 
Past and present members are encouraged to attend and bring old photographs of time spent in the group. 
For more information call Kay on 9525 5656 or Maxine on 0417 033 054.