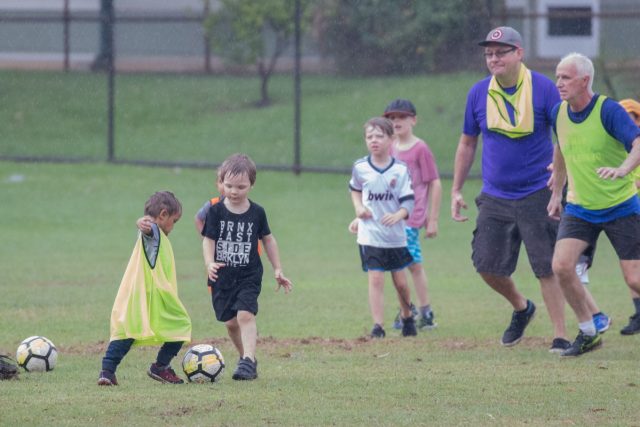 Heavy rain didn't halt the enthusiasm of more than 20 children who showcased their ball skills in an activity last weekend. 
Westfield Park Primary students, together with their fathers and father figures, took part in The Fathering Project activity which saw former Perth Glory player and now senior community development coordinator Michael Garcia teach them the tricks of the trade. 
Principal Steve Soames said it was lovely to see the camaraderie between the fathers and the children. 
"As the dads all came off the pitch for a free sausage sizzle breakfast with their children, I heard comments like 'I haven't run like that in years, it was awesome', and 'I work until 6pm each evening and have only ever seen the front of the school'," he said. 
"Westfield Park is keen to extend opportunities for fathers and father figures to spend time with their children involving activities at their school. 
"When parents take an active interest in their child's education, the children are keen to do well at school." 
The Fathering Project coordinator David Walker said the participants benefitted from healthy competition and encouragement, while plenty of fun and laughter was shared. 
"An activity like this promotes memory making and provides opportunities for both father and child to feel more connected," he said. 
"Our next activity with Westfield Park will be in term two with a barbecue breakfast at Champion Lakes followed by a walk to school." 
Photographs – Aaron Van Rongen.