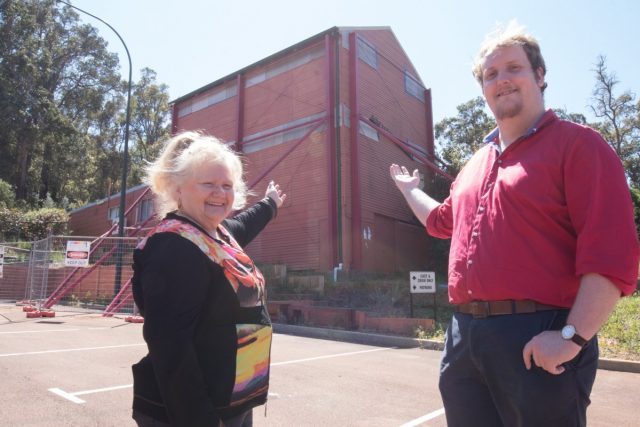 A few months of running around gathering thousands of signatures of support has paid off for the members of the Roleystone Theatre group, as the City of Armadale council voted to commit to the reopening of the historic site. 
The Roleystone Theatre building on Brookton Highway has been closed since February this year after structural issues at the 1922-built building were identified. 
Since then the group has been operating from its temporary home at Roleystone Hall and have presented a couple of performances at Cecil Andrews College and the Kalamunda Performing Arts Centre. 
At Monday night's ordinary council meeting, councillor Mark Geary delivered a convincing speech to his fellow councillors in support of his original motion presented at the council's community services committee meeting two weeks prior. 
Mr Geary's original motion, to commit to the reopening of the theatre, as well as proceed with finalising a design, consider and seek funding sources and consider user arrangements was met with unanimous support from council this week. 
In his speech, Mr Geary said he didn't know what the right answer was in relation to how the funding would work, but said, "sometimes you just have to do the right thing and stuff happens". 
"We have a building that holds significant value to the city… and I clearly believe we should restore the Roleystone Theatre," he said. 
Councillor Donna Shaw added a further condition to the motion, which stated that council commit to the use of Roleystone Hall by the Roleystone Theatre Group until such time that the theatre be reopened.
Life member and committee member Bree Hartley said it had been a crazy few months for the group but hearing the decision made it all worthwhile. 
"As a theatre group we are incredibly thankful for the community support and the Save the Roleystone Theatre campaign group," she said. 
"This is a major victory for our local community, our theatre community and everyone down through the years who we were representing with our fight to not lose what they had built through blood, sweat and tears. 
"The Roleystone Theatre and Theatre Group live to fight another day."