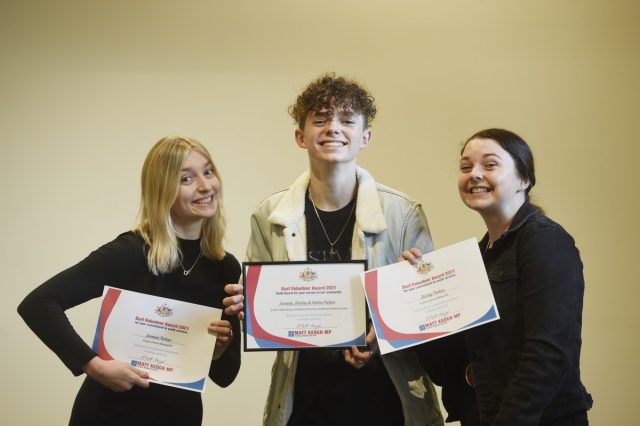 A group of local siblings have received kudos after dedicating their time to volunteering with various not for profits.
Jasmine, Ashton and Destiny Perkins have volunteered with various charities including Healthy Strides, Rebound WA, and Variety Youth Choir over the course of approximately three years.
The siblings were recently acknowledged for their hard work when receiving the Burt Volunteer Youth Award on July 25.
Jasmine is currently studying occupational therapy at University and has her own support worker business, she has been volunteering for three years.
According to their mother Simone Perkins, Jasmine volunteers one day a week with Healthy Strides where she works with children with cerebral palsy and intellectual disabilities.
"Healthy Strides basically encourages these children to walk independently as much as they can," Mrs Perkins said.
"Jasmine interacts with the children through social activity and that sort of thing.
"She also works with ReboundWA with the Whiz Kids program on a Saturday where she helps kids with disability to get active.
"They work with specialist and adaptive equipment to help the kids and each week they do a different sport to help the kids learn new things and meet people.
"She's also booked in to volunteer to do a hand therapy course to help a clinic in Darwin."
Ashton is in Grade 12 on a vocation pathway, which gives him the ability to go to ReboundWA on a Thursday to help with the equipment and wheelchairs.
"They also invite people to the ReboundWA centre and have people in wheelchairs doing basketball to show them what it's like to play the sport," Mrs Perkins.
"On a Saturday he also joins Jasmine with the Whiz Kids program."
Destiny is studying Speech Pathology at Curtin and works for the Variety Youth Choir, on a Sunday people with disability from a mixture of ages come together to sing and learn songs.
"They also perform as well, so she helps them with their performances as well as their singing and overall interactions so they feel comfortable," Mrs Perkins said.
"Variety and Rebound both have Holiday Camps as well and the three of them help with those."
Jasmine started volunteering three years ago with both Ashton and Destiny volunteering for about a year now.
"They've always been the kinds of kids to help behind the scene," Mrs Perkins said.
"Jasmine started with ReboundWA and then she figured Ashton would be really interested in helping with the basketball.
"So, she got him on board and he's loved it and thrived so he's continued on.
"Destiny is studying Speech Pathology so she thought she could teach children how to communicate and also help her learn and also help the community."