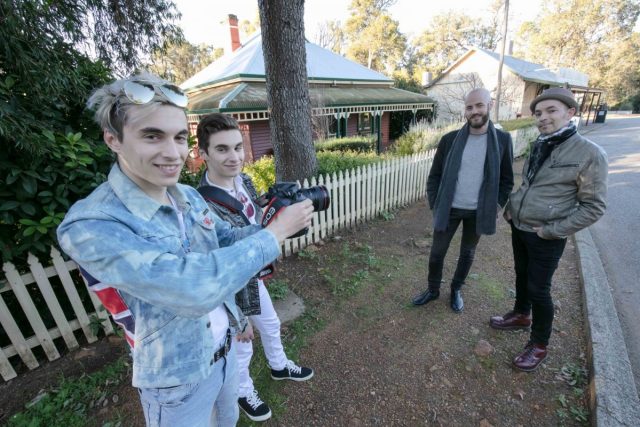 Roleystone twins Jude and Beck Glasgow are filming a new music video for band 'Boy on a Hill' in Jarrahdale.
The founder of 'Boy on a Hill', Dan Glasgow said the boys are creating the music video to build their portfolio to get into a film course at University.
"Jude was the actor in our first video also, other bands are usually standing around in their music videos whereas I like not having that and having a protagonist that's consistent," he said.
"I gave them the basic idea of what the song is about and the story, now they are filming it, then they'll edit and put it all together."
The setting for the music video is the hills of Jarrahdale, which is an ongoing theme for the band.
"I was living in Roleystone when I came up with the name Boy on a Hill and we want to keep that branding all around the hills," Mr Glasgow said.
"The first video we shot at Boulder Rock, near Leslie and we thought, every time we do a video why don't we keep it in the hills.
"We want to keep all Boy On A Hill visuals in the Darling Ranges as it has a strong, distinctive look.
"Perth residents may not notice the distinctive look of our hills, but overseas our bush, massive rocky outcrops and weatherboard buildings create a very Australian flavour."
Some of the video has been shot inside a house in Roleystone but the outdoor filming is set to take place in Jarrahdale where the band's drummer Dave Nolan lives.
"Jarrahdale is just a stunning little pretty town and so we thought let's shoot the outside shots there," Mr Glasgow said.
"There's a great little church in Jarrahdale and a great looking church in Roleystone, some of those kinds of buildings will look great in it.
"Dave has a nice little weatherboard house and so we'll shoot on the verandah of that."
Mr Glasgow said the song itself is based on a Romeo and Juliet-styled romance.
"It's based on a relationship a friend of mine had, they were both from two different religions and the parents of the girl did not approve," he said.
"I sort of just suggest that storyline within the song, I don't make it very clear because when I write a lyric I like it to be interpretive."