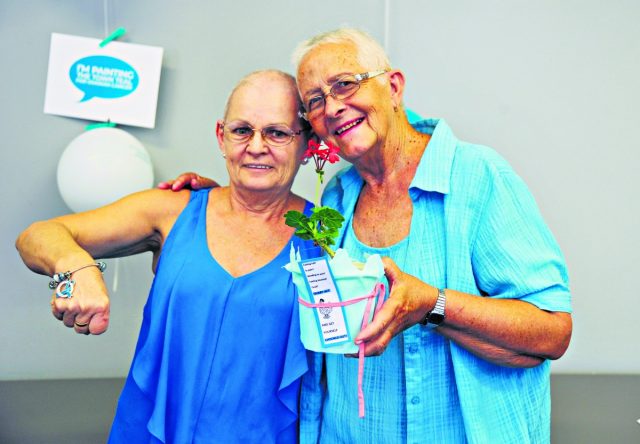 Noelene Robinson said she had never heard of ovarian cancer until she was diagnosed with it.
The 62-year-old Orange Grove resident said she took part in a recent 'Paint the Town Teal' morning tea as she felt it is vitally important to get the message out to other women about awareness and checkups.
"It is important to get the message out to women and girls that it is a silent but deadly killer," she said.
"I've been pretty lucky because I've been put on a trial, not just for ovarian cancer but also for melanomas and other diseases and they are having good results with melanomas.
"I find I don't get the side effects and I am probably one of the lucky ones because some do and I live my normal life and don't get sick and only have one treatment every three weeks and that lasts for a whole day"
Ms Robinson said, like many others who are diagnosed with the condition, she was shocked and upset at the news.
"When I was diagnosed I was stunned and dumbfounded because it wasn't a good outlook for me because I was pretty big and I had to go to King Edward," she said.
"I was still trying to comprehend it all and I was told I was a stage four out of stages one to four.
"When I was at the hospital I just cried and told the hubby to get me out of here as I need time and space to process it."
Ms Robinson said she was then transferred to Sir Charles Gardner Hospital where she underwent a successful surgery.
I didn't want sit there and ponder that I have cancer," shes said.
"I have had an operation that has taken it out and I'm looking pretty good now.
"After going through it, it was great and I can talk to someone who is going through what I'm going through.
"I work in a school in Byford with a woman whose daughter works at the school and her mum was diagnosed the day before me and I catch up with her regularly now.
"It's interesting to see all the different treatments we are getting.
"Within eight days, for example, she has to had to have three lots of chemo, whereas I have it in the veins, so it is a big difference to what we are all going through.
"I'm cooler this way with the hot weather and I've been spreading the word to others to get yourself checked because it is scary as to what we can get," she said.
Ruth Igglesden also attended the morning tea and said she had ovarian cancer 15 years ago and had treatment at that point but the disease recurred last year and she underwent about six or eight months of chemo.
"I just got the news I don't have to have any more chemo a few days before the Paint the Town Teal day," she said.
"When I spoke I had to tell people we had lost two people who previously attended the teas.
"While I got good news, I had to break the bad news that we do lose people from this disease.
"Treatments are getting better and better all the time there are some good outcomes."
Ms Igglesden said one of the most common questions she faced was people asking how did you she know she had it?
"I often told them the story about how I had an endoscopy and colonoscopy and things would come back clear and I felt like a hypochondriac," she said.
"The doctor asked me how I thought I was going and I told him that seeing as I don't live an outrageous lifestyle and sleep with loose men, I feel pretty terrible actually and that's when he ran some more tests," she said.
The recent "Paint the Town Teal" morning tea fundraiser for ovarian cancer was hosted by volunteers from the SJ Resources Centre in Mundijong and it raised $400, which goes to Ovarian Cancer Australia.
To donate, visit paintthetownteal.net.au