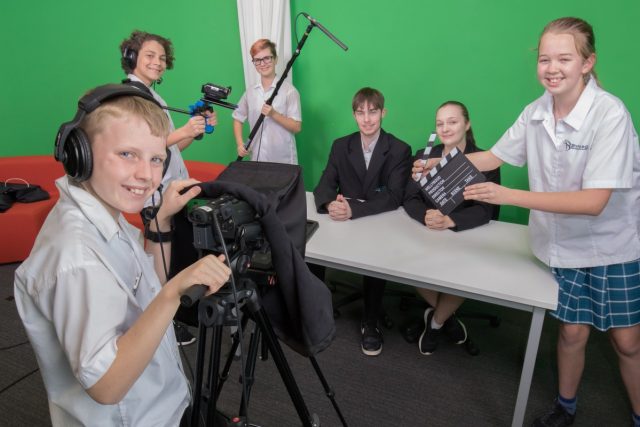 Each morning the announcements at Byford Secondary College are read and produced in a live studio by some of the school's talented media students. 
Dubbed 'The Morning Show' the idea was the brainchild of media arts coordinator Craig Miles who thought it would be a great way for staff and students to start each school day with a positive attitude. 
"We announce upcoming excursions, important school events, certain students that need to complete various tasks or see other staff members or just general fun facts and positive things happening in the school," he said. 
"There are also historical or interesting facts about the day put in by the HASS department, positive things happening around the school, inspirational quotes, helpful hints for students as well as photos and videos." 
A team of students produces the show with each student performing a very important role as a host, production support or all rounders. 
Mr Miles said students conduct a short rehearsal in the morning before the show is recorded for the rest of the school to see. 
"The students have thoroughly enjoyed being a part of The Morning Show team this year," he said. 
"They gelled very quickly as a group which was great to see especially because there are students ranging from years seven all the way up to year 11. 
"We are at the stage now where the students can mostly set everything up themselves while I complete other required jobs such as collating and finalising the script. 
"They are learning how a live television studio operates, the various roles associated with this and the pressures that come with operating in a live environment and, although they were a bit nervous to start with, they have grown in confidence and can now problem solve on the spot." 
The show is recorded each morning before school and is uploaded in time for teachers to show their classes on their iPads, laptops or on the classroom TV.