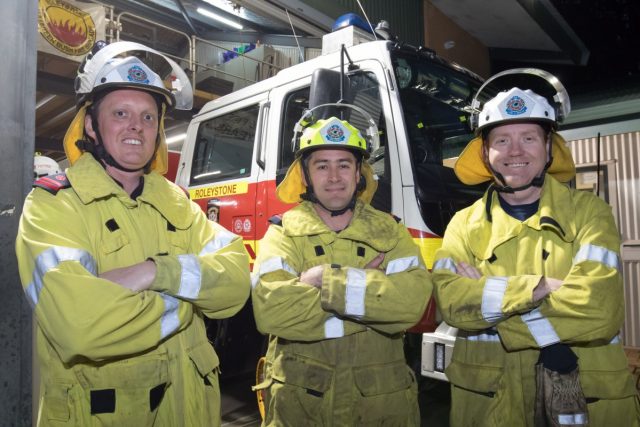 Three local firefighters received recognition last week for their efforts in fighting one of Western Australia's worst bushfires. 
Volunteers Shane Plowman, Glen Usher and captain Aaron Kain, from Roleystone Volunteer Fire and Rescue Service, were awarded certificates of distinction on Saturday for their roles as sector commanders during the horrific Waroona bushfire, which all but destroyed the nearby southwest town of Yarloop. 
The 2016 fire tore through more than 60,000 hectares within the shires of Harvey and Waroona, destroying 181 residential and commercial properties and tragically killing two Yarloop residents.
More than 130 award recipients were nominated by their peers to receive the Department of Fire and Emergency Service honours. 
Captain Aaron Kain remembers the incident as one of the fastest moving fires he has ever responded to in his 20-plus years of volunteer service. 
"When the fire started I was travelling back from a pastoral station in the mid-west and I could see the smoke plume from about 350 kilometres north-east of Perth," he said. 
"At that point I knew it was going to be bad. 
"The following day I was sent to Waroona and this was one of the days that the sky went black and a pyrocumulus cloud formed due to the fire and a large thunder storm and rain occurred over the fire ground." 
Mr Kain said the Roleystone brigade provided two trucks and numerous volunteers to fight the blaze, with members performing seven 12-hour back-to-back shifts. 
"Roleystone crews initially started working on the northern side of the fire between Waroona and Forest Highway and then we were required to move to the southern side of Forest Highway," he said. 
"Roleystone worked side by side with other metropolitan volunteer and career crews as well as crews from the south west including Dunsborough and Margaret River and crews from the Northam area. 
"All of the brigade members put in a massive effort to do what they could to assist with the fire." 
Emergency Services Minister Francis Logan said although more than three years had passed, the efforts of all involved are still in the minds of the individuals they helped protect. 
"The recipients carried out their duties to the highest degree, showing great dedication and bravery in the face of unimaginable conditions and immense challenges," he said. 
"Their efforts are very much appreciated." 
Anyone wanting to nominate an individual, brigade, group or unit for their service during the Waroona fire or any past incident is asked to email rewards@dfes.wa.gov.au