Kelmscott's John Dunn Memorial Park will soon receive a new neighbour in the form of a state-of-the-art cycle facility. 
The $1.5 million John Dunn Challenge Park will be located on the site of the old BMX track, adjacent to the popular off-leash dog park. 
Scheduled for the 2021-22 financial year, the project will be a large-scale development with multiple bike-related facilities.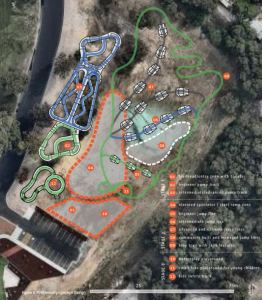 City of Armadale chief executive Cliff Frewing said the need for a cycle facility was identified in the city's John Dunn Reserve master plan in 2012-2013. 
"In 2018 council initiated more detailed concept planning for a cycle facility to determine the nature of the need, functionality and design," he said.
"With community engagement undertaken via surveys and an on-site open house workshop where almost 500 people participated it was identified that there was stronger demand for a broader range of cycle-related activities rather than a dedicated, competition-based BMX facility." 
Mr Frewing said Challenge Park would be an excellent addition to the John Dunn precinct. 
"Pump, jump, skills and safety tracks are often integrated into one larger-scale, seamless facility under the banner of challenge parks," he said. 
"Their combined facilities provide an excellent entry point into riding while offering technical riding features for more advanced riders." 
The city will provide $500,000 towards the project with the balance to be sought through grants funding, yet to be submitted but planned with the Department of Local Government, Sport and Cultural Industries and Lotterywest.