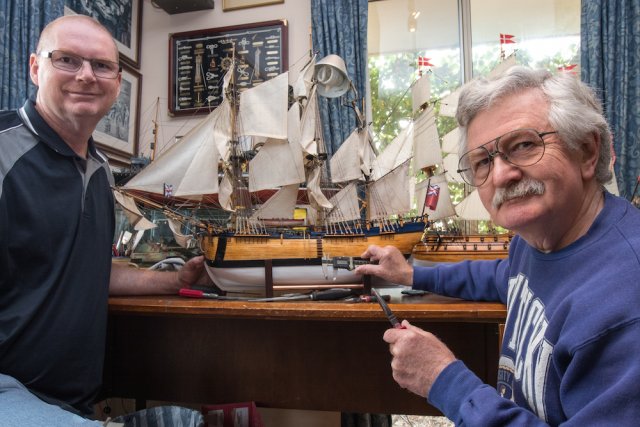 A lifelong passion for ships prompted a Byford resident to buy a model of the HMS Endeavour on Gumtree but little did Mark Riordan know he was about to set sail on a remarkable journey thanks to the Serpentine Jarrahdale Men's Shed.
Mr Riordan said he bought the model ship from a recently widowed woman and felt he owed it to her deceased husband to complete building the ship.
However he soon realised his model making skills were not good enough to complete it and said he needed help.
"I rang the Men's Shed," he said.
"Although I'm not a member I know they do a lot of good work."
Mr Riordan said he asked the members if anyone could help him.
He said initially there was no one available but he received a call one day and was told to get in touch with Jarrahdale resident Andrew Forbes-Pryer.
After hearing the story Mr Forbes- Pryer gladly accepted the project and began work on the ship in February.
He finished it two weeks ago having worked on it four hours every day.
Mr Riordan said he was humbled and grateful for the call.
"It's very selfless of Andrew," he said.
"It's done now and we can honour the woman's husband who passed away, he must have loved ships."
Mr Riordan said he planned to buy a glass covering to protect the HMS Endeavour and he will send pictures of it to the woman he bought it from.
Serpentine Jarrahdale Men's Shed president Bob Hollingsworth said it was a tremendous effort and a beautiful story.
"Andrew is a real good samaritan," he said.
"It's fantastic that we were able to help out and connect Andrew and Mark."
Mr Forbes-Pryor said he enjoyed working on the Endeavour and that it took him 700 hours to complete.
The HMS Endeavour was the ship commanded by Captain James Cook on his first voyage of discovery to Australia.