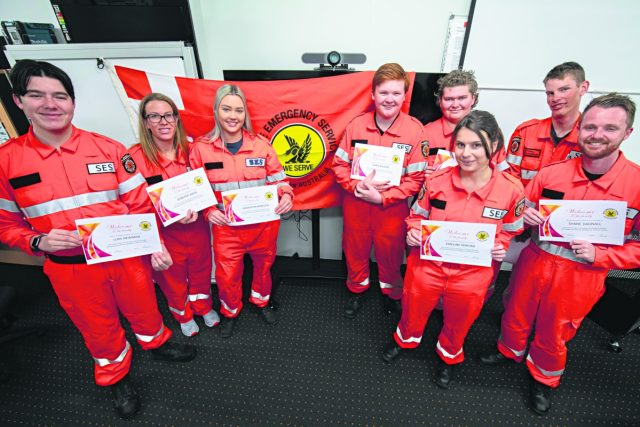 Serpentine Jarrahdale SES Manager Martin Seward has plenty of reasons to celebrate,
commemorating a legacy of thirty-five years of service last weekend at the same time as welcoming in a new generation of recruits to the SES fold.
In a low-key event attended by friends and family, along with Hugh Jones MLA and Shire President Michelle Rich, the new recruits were awarded graduate certificates and enjoyed a bite to eat, having spent recent months completing training and on-the-ground storm call-outs.
"It's great to see the youth coming onboard and it's great to see them assisting the community," Martin said.
"Please join us in congratulating our newest members: Chris Wilson, Emeline Pereira, Cameron Turnor, Vaughn Lowe, Luke Newman, Jennifer Wade, Samantha Morgan, Shane Dagnall and Rory Parent."
Bringing up the latest crop of recruits is not something the veteran manager takes lightly, and nor is his role as an emergency services worker.
Having started with the SES in Gosnells in 1984 before heading north to spend three years in Port Hedland and six years in Karratha, Martin's roots are deeply embedded in the SJ community.
And community, for him, is what the job is all about.
"A drive for community and knowing that you can do something in the time of need," Martin said.
"Saying yes, we're here, we're here to help you, you're not alone.
"We might not be able to save the house but at least they know that we're here, we'll do as much as we can and you're not left alone.
"You go into a situation where there's carnage everywhere, chaos everywhere, but you need to keep a level head, know what you need to do and get on with the job.
"At the same time, you have to understand what the community is going through."
Having faced countless situations that most people would run from, Martin recalls a five-week effort to assist in the clean-up effort in Kalbarri in 2021, following the devastating landfall of Cyclone Seroja.
"Kalbarri – they got hammered, but we needed to get in there," he said.
"Even when they had community meetings, you're there as well, you might be in the back but you're there letting them know, 'hey, we are here.'"
Asked how long he plans to keep up his emergency services work, Martin laughs.
"You'll have to ask the wife about that one," he said.
"I'll keep going as long as I can, whether I can keep going out in the field or work in the office.
"You learn everything, and that's something I do with the training, because there might be a time they can't get out there but they can still be useful in the operations centre.
"I do it because I have pride in what I do and what the SES stands for. We've got to support each other."