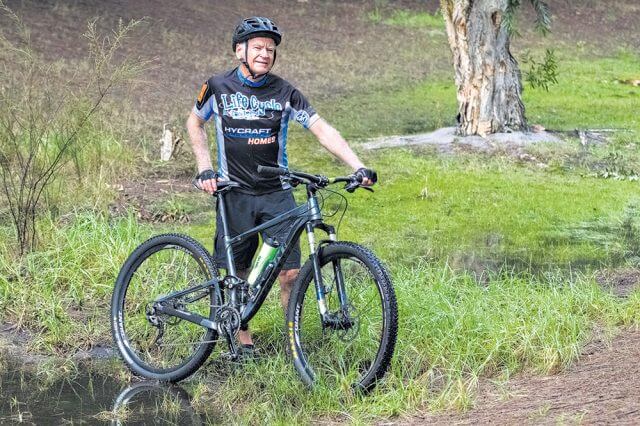 Age is no barrier when it comes to combining extraordinary physical feats and fundraising for a charity.
Canning Vale resident Stephen McNally, 64, will be hitting the tracks on a three-day mountain bike ride along the munda biddi trail this October as part of the annual off road life cycle for canteen event.
Canteen provides support programs such as camps and counselling services to help those affected by cancer, namely youth and relatives of those with the illness.
It will be Mr McNally's third time taking part in the fundraiser, where he will ride along pea gravel, rock and dirt track for between 40 to 50 kilometres a day.
He said it was a great way to stay fit and challenge himself physically as well as raise money for a cause close to his heart.
"I lost my wife to cancer 10 years ago so I'm fully aware of the implications it has on all family members when someone is battling it," he said.
"It really does have a devastating effect on everyone and with teenagers the impact that befalls them is pretty severe so the things canteen does truly gives them a positive outlook on things.
"Sometimes all they want is someone to talk to, someone who understands what they're going through, and canteen does just that."
Life cycle for canteen coordinator Jenny Aramini said there were 35 riders and 20 crew members registered but she was hoping to see a maximum of 70 riders participate.
"This year we're taking a bus from Kelmscott and driving to Lake Navarino on the munda biddi trail, which is where we'll start," she said.
"We'll then take the scenic route to Nanga through to Dwellingup for the first night where we'll make camp.
"The second day we'll ride to Dandalup and on the third day we'll get back onto the munda biddi trail and end just north of Jarrahdale."
Participants would ride in groups according to ability and support crew.
Volunteers from the Toyota Landcruiser club would provide technical support, first aid, catering and towing gear.
To register or donate visit offroad.lifecyclewa.com.