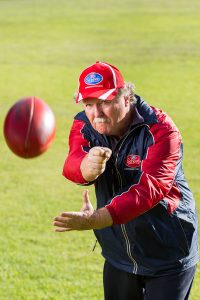 Armadale teacher Terry Pass was recognised for his work in Australian football at the 2015 Woolworths AFL school ambassador awards.
Mr Pass, a teacher for 41 years, took out the outstanding indigenous AFL program award for his efforts at Gwynne Park primary school.
He runs several programs at Gwynne Park because getting children involved in sports kept them occupied and off the streets.
"I live in the community in Armadale not far from the school and I see the kids wandering but if they have got something to do and they are a member of a club they won't wander the streets," he said.
"When they are part of the club they are part of the building, ideally if they're members of the footy club their parents are involved as well.
"They own the building because the members own it and of course the council but hopefully they will respect the buildings, respect themselves and respect the community."
He said engaging children in sports taught them self-management.
"We tell them to be part of the team, listen to the umpire, it is not all about you, you are part of a team and that's what I do as a phys ed in schools."
Mr Pass said programs such as the indigenous AFL program were a way to leading children towards joining a club in addition to playing at school and he encouraged all children not just those of indigenous background.
"We start at school and get them involved in footy and then a club and after school sports program," he said.
"It is for boys and girls to be a part of and the idea is to identify if they've got talent, talk to the parents or carers and say look, there's a football club in Armadale, they are a very good club."
He said youngsters could aim high and cited former Gwynne Park students Ashley McGrath (Brisbane Lions) and Hawthorn new recruit Jermaine Miller-Lewis as examples of those who had made it to the top.
"I just want kids doing things, particularly when you have a lot of kids in care," he said.
"I have been engaging for a number of years with the carers and agencies involved to get
them into sport."