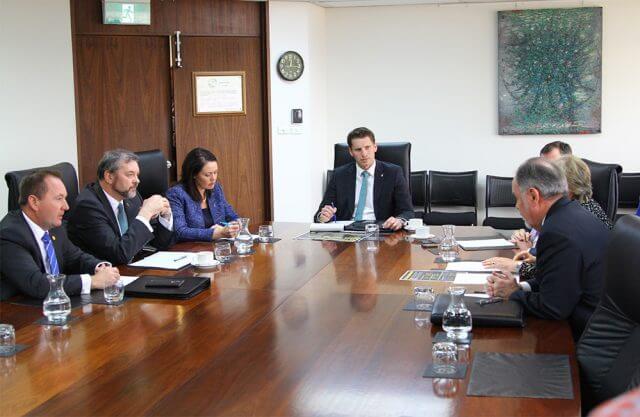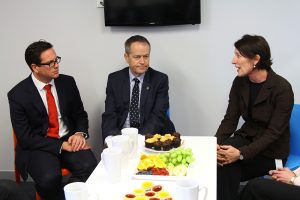 The Liberals set down plans for a local taskforce into ice addiction today, hot on the heels of Labor funding promises for drug and alcohol rehabilitation services announced yesterday, as both major parties in the Canning by-election seek to combat use of the drug.
Liberal Canning candidate Andrew Hastie's plan announced this morning at the City of Armadale included a localised ice action plan and taskforce, community forums and promotion of the dob in a dealer campaign.
Mr Hastie met with federal Justice Minister Michael Keenan, Police Minister Liza Harvey, Corrective Services Minister Joe Francis, Mental Health Minister Helen Morton and City of Armadale chief executive Ray Tame to discuss the issue.
He said families were being torn apart and drug related crime was rising on local streets.
"I am passionate about finding a solution for this local and statewide problem and know that we must look at this issue from every angle – prevention, cure and punishment," he said.
The Canning ice action taskforce would consult with the community and report back to relevant ministers while the community forums would provide the local community with information on how it could be better dealt with.
Mr Hastie said if elected he would will develop and implement a Canning ice action plan within his first 30 days.
Yesterday Labor candidate Matt Keogh outlined his plan if Labor was elected at the 2016 federal election, which included $2.7 million in funding until 2019 for drug rehab organisations Hope community services and Palmerston association.
Mr Keogh said rehabilitation and support were key to battling drug addiction.
"We need to be investing in services like (Hope community services), like Palmerston which can help get people off drugs," he said.
"People who even want to get themselves off drugs, families who want to support their family members that are on ice can't find available beds and support services and they're the sorts of things we need to be investing in."
Labor's plan would see $2.7 million given to Hope and Palmerston until 2019 to continue their services.
They would also contribute $200,000 to install new CCTV cameras in crime hotspots in Armadale and Mandurah.
WA's rate of amphetamine use was the highest in the country with 3.8 per cent of the population using amphetamines compared with the national average of 2.1 per cent.
In 2014 there were more than 4000 drug related crimes in WA.