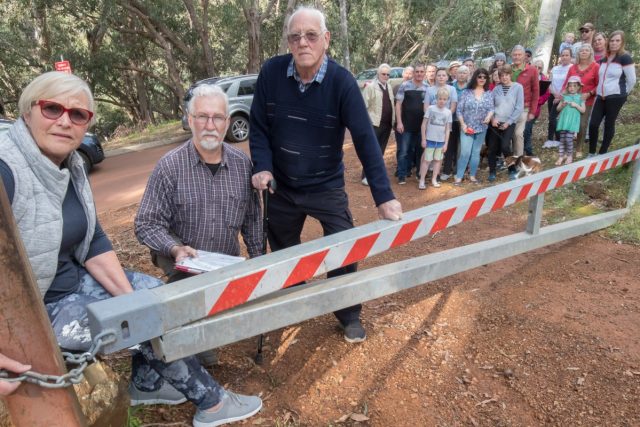 The entry and exit of one of Roleystone's housing estates has been questioned yet again with the community rallying together for change. 
Barry Porter and his wife Wendy moved to the Araluen Golf Estate in 2009 and said although they were aware of access safety issues, they were told additional accesses were part of the development deed and were to be completed at a later date. 
Fast-forward 10 years and residents are still forced to use the one exit in and out of the estate via Heritage Drive, except in periods of very high fire danger and above when the emergency exit gates at Wymond Road and Old Albany Lane and Armenti Road are opened by the City of Armadale's rangers team. 
Mr Porter said many residents have told him they feel lucky that there hasn't been a fatality due to the current arrangements. 
"Having alternate routes for escape and access by emergency services will give significant peace of mind," he said. 
"Our personal experiences are related to friends trying to visit us and being directed to the locked gate by their GPS in 2010 and having to undertake a dangerous reversal of their vehicle and 24 foot van. 
"Another incident where a neighbour had a heart-related emergency with the ambulance arriving at the locked gate as directed by its GPS and then having to reroute to the open access. 
"Better access may also improve the capacity of residents to sell their properties when they are ready to move on." 
Mayor Henry Zelones said he believes the current emergency exits are sufficient and Wymond Road is of poor geometric standard and not suitable for use as a permanent residential access road. 
"The city does not have any plans in the immediate future to establish an additional exit route," he said. 
"The existing permanent access to the estate via Heritage Drive caters for the existing traffic volumes." 
The Araluen community has put together a petition, which they intend to submit to the Legislative Council in parliament for consideration via their local member Alyssa Hayden, who said the city couldn't afford to ignore the risks posed by the estate's current lack of access routes. 
"In light of the 2011 bushfire affecting Roleystone and Kelmscott, I'm calling on the city to protect these residents by providing a permanent alternative exit route," Mrs Hayden said. 
"Failure to act is leaving this community in danger."