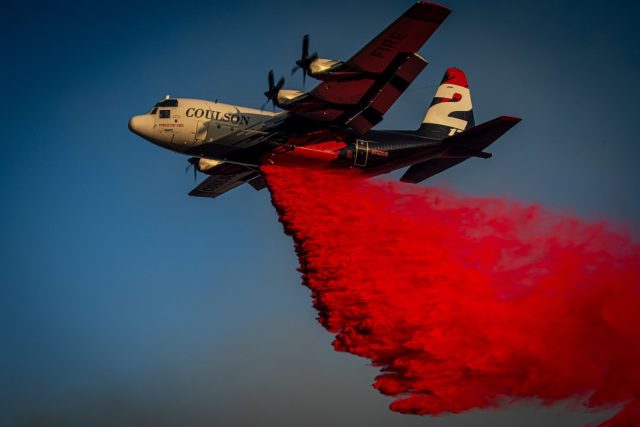 A bushfire that started in Oakford and quickly spread to surrounding areas was deliberately lit, according to the police squad assigned to arson cases, Strike Force Vulcan.
The fire was reported on Sunday at 11:13am and was downgraded to a bushfire advice Tuesday evening.
DFES is still managing the situation and has urged everyone within the shire of Serpentine Jarrahdale or the City of Armadale to keep up to date with emergency warnings.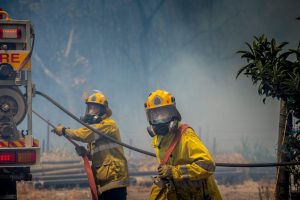 The fire started near Modong Nature Reserve in Oakford and burnt 302 hectares, with damage to properties and homes.
However, firefighters were able save a number of commercial and residential homes from the blaze.
Strike Force Vulcan was established to investigate deliberately lit fires across Western Australia.
Detective Sergeant Chris De Bruin is the officer in charge of Strike Force Vulcan, he said that the Oakford fires started due to human interaction.
"It has started through some form of human interaction, exactly what has caused the ignition is still yet to be determined. It is suspicious until proven otherwise," he said.
"The fire started very small and we had witnesses who saw the early ignition of the fire and it quickly turned into a major bushfire event due to weather conditions."
Detective Sergeant De Bruin said life imprisonment is the lawful sentence for wilful intent to start a fire.
"This year there has been a mixture of adult and juvenile offenders," he said.
"With juveniles we rely on other forms of intervention not just the court system."
Since the start of the bushfire season, the arson squad has investigated 58 bushfires, 10 are active investigations.
26 offenders have been prosecuted or dealt with so far this season.
Detective Sergeant De Bruin said community reports are vital.
"We ask the community to report any suspicious activity to crime stoppers," he said.
"I can guarantee that information will be acted upon by us.
"They are our eyes and ears in the community and Western Australia is a big state so we need those people to report the things they do see so we can act on it."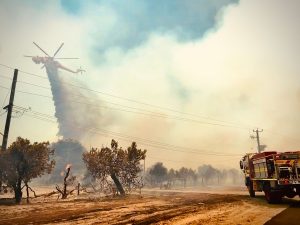 Detective Sergeant De Bruin said with this year's weather conditions it can take only one spark to ignite a fire.
"The number of fires is much the same as previous years but unfortunately due to the weather conditions, the fires are much larger in size."
According to Strike Force Vulcan, once the bushfire is investigated, they can determine what the cause is and prevent wasting resources on a fire that's not deliberately lit.
"The devastation caused by bushfires is well known in Australia. I'd strongly urge those who are thinking about lighting a fire to desist," Detective Sergeant De Bruin said.
Firefighters managed to get the blaze under control on Sunday evening and are now patrolling the area, mopping up and monitoring the situation.
Police are urging anybody with any information about the ignition of the fire or who have witnessed suspicious behaviour to come forward and contact Crime Stoppers.
Any dashcam, CCTV or mobile phone footage of the area of the fire can be uploaded to https://wapf.au.evidence.com/axon/citizen/public/oakford-kwinanafire.