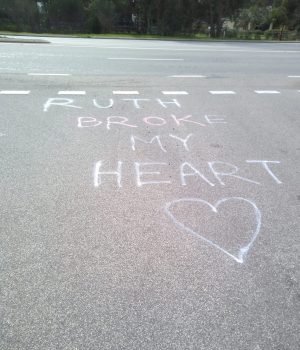 Residents and motorists across Perth's south-east are asking themselves the same question this week – who is Ruth and who went to such extraordinary lengths to get her attention?
The community was in a spin earlier this week after photographs emerged of signage from Armadale to Byford vandalised with cryptic messages for 'Ruth'.
The messages, which included 'You broke my heart, Ruth' and 'I've never been this hurt. Thanks, Ruth', are believed to have been spray painted be a jilted former lover some time between July 5 and July 6.
Inquisitive residents banded together to investigate the incident and share theories about what led to the graffiti and who may be responsible.
City of Armadale mayor Ruth Butterfield even got in on the action, taking to social media to confirm that the messages had not been left for her.
A spokesperson for the city told Examiner Newspapers the city was aware of the graffiti and said it was a shame that ratepayers would effectively foot the bill for one person's actions.
Examiner Newspapers understands much of the graffiti has since been cleaned.
Last financial year alone, graffiti removal cost the City of Armadale more than $54,000.
It is not yet known exactly how much cleaning the graffiti cost ratepayers in both Armadale and Serpentine Jarrahdale.
Residents are encouraged to report graffiti on city-owned assets by calling 9394 5000.