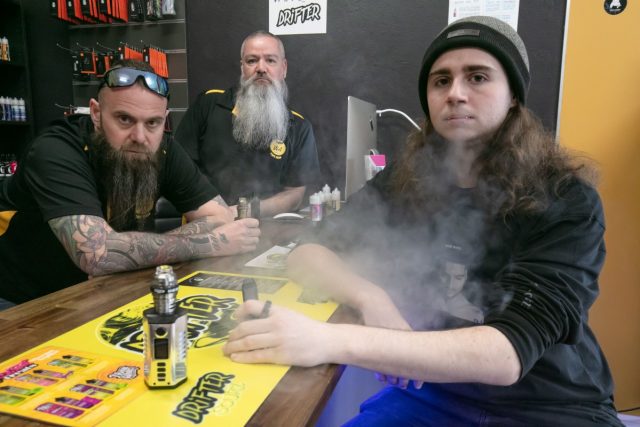 Local former smokers who switched to vaping said they fear for their own lives after the Government announced its proposed prohibition on the importation of vaporiser nicotine.
While the decision was going to be made by July 1, six additional months have been granted and vapers in the area said they would continue their fight to stop this from happening and make vaping with nicotine available in Australia.
Australia's Health Minister Greg Hunt delayed the plans until January 1 next year after 28 Coalition Members of Parliament pushed against the restrictions.
Currently people who use e-cigarettes and vapes containing nicotine need permission granted by the Department of Health to a doctor or medical supplier to import the product.
WA E JUICE CO vape store owner Stuart Bowerman, who was a heavy smoker for 25 years, said he tried all traditional quitting methods and ever since he discovered vaping seven years ago, he managed to quit completely.
"Greg Hunt's statement that it's a teen gateway to smoking is just totally untrue," he said. "Also, the statistics that he states are outdated statistics.
"The majority of our customers, I would say 98 per cent, are in the age range of mid 30s to mid-70s.
There has been more than 55 scientific studies on vaping and it has been proven that it's 95 per cent safer as per Public Health England.
"If the ban does go ahead, I am actually terrified for myself and my customers, if we never had access to nicotine, we would eventually end up back on the smokes."
A 72-year-old lady who is a regular customer at Mr Bowerman's store switched to vaping about six months ago and broke down in tears when she found out about the proposal.
"She was petrified that she could not access vaporised nicotine and would end up back smoking cigarettes and not be around to see her great-grandchildren grow up," he said.
"Watching how her health has improved over the last six months is the reason I do what I do, and opened a vape store.
"If the ban does go ahead next year, it will have a huge impact on the health of the 300,000 Australian vapers and the smokers who have yet to discover vaping."
Legalise Vaping Australia has an ongoing petition with 38,691 signatures at the time of writing, which asked the senate to call on the Minister of Health to permit the sale of e-cigarettes containing nicotine and ensure that regulations protect users of e-cigarettes with or without nicotine.
Member for Thornlie Chris Tallentire said he supported the Government's view on e-cigarettes and said it is in line with national regulations of these products by the Commonwealth Therapeutic Goods Association.
"Our Government is advocating for a precautionary approach to these products," he said.
"While I understand that local residents who are vapers, or former cigarette smokers, might be frustrated with this decision, it is not good public health policy to make these products available until it is known that they are not harmful, or the extent of their harm is known."
More than 70,000 people have signed Federal Member of Parliament George Christensen and Senator Matthew Canavan's petition to stop the vaping ban and push to legalise vaping.
Local resident Angus Ladyman-Palmer who quit smoking and has, since 2018, used vapers, said preventing legalisation from happening will push smokers back into cigarettes.
"We all know smoking kills two in three long-term smokers and not to forget the many other adverse health effects of smoking tobacco," he said.
"We may have gotten a win against Greg Hunt by him pushing back the ban to January 1.
"We couldn't have done it without everyone's support, although we are a long way to go from winning this battle."