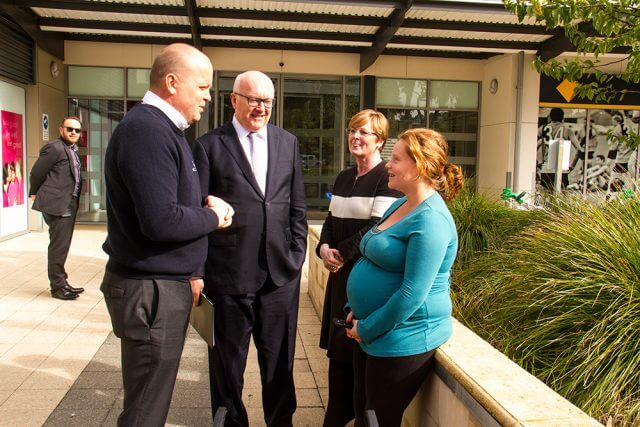 Federal Attorney General George Brandis said Parliament had room for politicians with community worker backgrounds such as Liberal candidate for Burt Matt O'Sullivan but not for 'cookie cut-out lawyers' such as Labor candidate for Burt Matt Keogh.
He justified his comments by pointing out he was himself a lawyer and there were enough in Labor, Liberal and other parties to go around.
Mr Keogh denied he was a cookie cutter lawyer.
"I've got a response for George, I've met George, but unlike most of the people in Parliament who have a law degree, I have actually practiced as a lawyer," he said.
"Not only have I practiced as a lawyer but I have practiced across small suburban law, prosecuting and the private sector, which has brought together a breadth of experience that no lawyer in Parliament would have in addition to having worked in the community sector across legal areas, domestic violence and youth work in prisons, there is nothing cookie cutter about what I have done."
Mr Brandis was in Armadale last week for a round table discussion of social issues with community leaders involved in education, indigenous affairs and domestic violence.
He said Mr O'Sullivan's experience, where he has helped find jobs for 27,000 indigenous people via Andrew Forrest's Generation One program, would be invaluable in Parliament.
"I cannot think of a single person in Federal Parliament, Labor, Liberal, whoever with the experience and engagement that Matt O'Sullivan has had in those sorts of employment and empowerment programs," he said.
"Matt is directly involved in the Challis programs through Mindaroo, this is not a case of a political candidate who wants to be part of a good program, he has been the architect of a good program.
Mr Brandis was impressed with the solutions the round table participants had spoken of, particularly at Challis Primary School.
"One of the biggest problems of primary school education is absenteeism particularly kids from dysfunctional families, very commonly Aboriginal kids that don't have the motivation to get to school or the capacity to get to school because the parents are of dysfunctional families who do not prioritise their children's education," he said.
"Challis has programs to engage with those dysfunctional parents so the school is more than just a provider of school teaching as it is also a community resource that addresses the various areas of dysfunction."