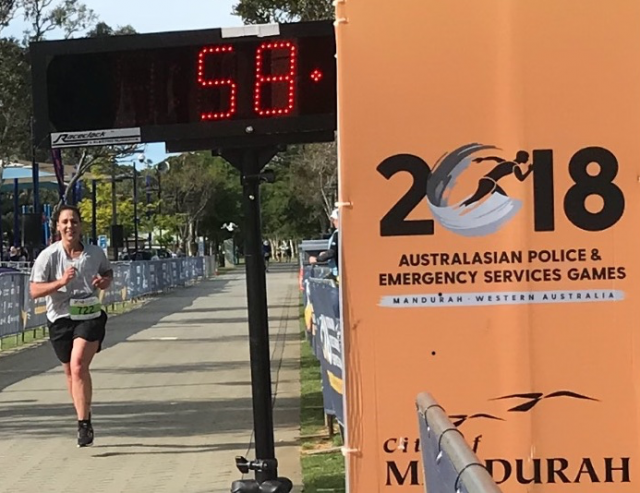 Three officers from Mundijong Police returned to the station with gold medals after they competed against their police and emergency services brothers and sisters at this year's Australasian Police and Emergency Services Games. 
The games, which were held in Mandurah from October 28 to November 3 attracted more than 3000 serving and retired personnel and registered volunteers from police and emergency service agencies from around the country and across the world. 
The event started with a torch relay, live music and fireworks and featured more than 50 sporting events including cricket, cross country races, AFL 9s, badminton, darts, ten pin bowling, rugby, swimming, table tennis, volleyball, shooting and stand up paddle boarding. 
Mundijong Police Senior Sergeant Darryl Brandis competed in the individual, doubles and team 10 pin bowling events and took home gold in the team category and bronze in the individual category. 
While his customer service officer Shannon Mackie won gold in her category for the 10-kilometre road race and First-Class Constable Adam Miller took home gold in the 10-kilometre cross country event. 
Senior Sergeant Brandis said he was extremely proud of his team's achievements. 
"We have a history now in the cross country event as about 16 years ago I ran at the games in Melbourne where I took out gold and held that record for about three lots of games so the fact that Adam has got the gold medal back now is really good for us," he said. 
"For Shannon and Adam it is not easy to train for athletic events because you have to work shift work and weekend work so you can't train when you ideally want to. 
"You are either forced to train in the heat in the middle of the day or the cold at night so for both of them to get up and win medals in their events I was really proud of them."