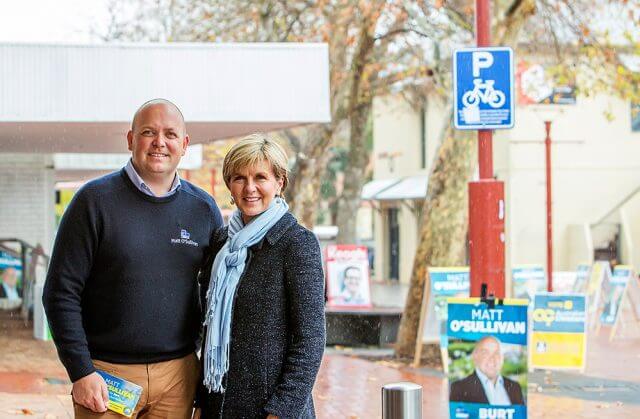 Seasoned campaigner Foreign Minister Julie Bishop lent newcomer Matt O'Sullivan her support in his final days as Liberal candidate for the new seat of Burt this week.
Ms Bishop has been backing Mr O'Sullivan since he decided to run for preselection and said in her 18 years as a politician Mr O'Sullivan was one of the most outstanding candidates she had seen.
"I hope that the people of Burt see in Matt O'Sullivan a caring, committed, intelligent person with a life of experience that will reflect very well on his time in Parliament," she said.
Ms Bishop said Burt was not a seat to take for granted and businesses in the area would benefit greatly from the free trade agreements signed off on by the Liberals during its latest term.
"While traditional diplomacy is about securing peace, economic diplomacy is about securing prosperity," she said.
"So the free trade agreements that we have signed with China, Japan and South Korea are all part of that foreign trade policy but the achievements and outcome will be felt back here as more Australian businesses will be able to sell their goods and services into markets to our north, many of whom have not previously exported so this is a huge opportunity for small businesses.
"The trade deals that we have been doing are opening up huge markets for businesses here and we support them in finding ways to export their goods and services.
"For Labor's six years in office they did not see deals as a priority and they didn't even see them as necessary. They did not instigate, negotiate and finalise one new trade deal in six years, they completely dropped the ball."
Ms Bishop said the Turnbull Government was backing small business with its tax cuts and described Opposition Leader Bill Shorten's plans for the sector as 'the most hostile campaign' she had seen for a long while.
"Bill Shorten is not putting the interests of the millions of people who work in small business or the 100,000 actual small businesses who would receive a tax cut under the government, which means they would keep more of their money, they can invest more of their money in the business and they can employ more people," she said.
"So we are unequivocally backing small business, Labor is not."
Ms Bishop offered Mr O'Sullivan advice such as to pace himself during the campaign, to work together with his family and to never give up.
"After 18 years I am still excited every single day to get out of bed because there is just so much you can do to be a servant of the Australian people and that is how I see my role," she said.