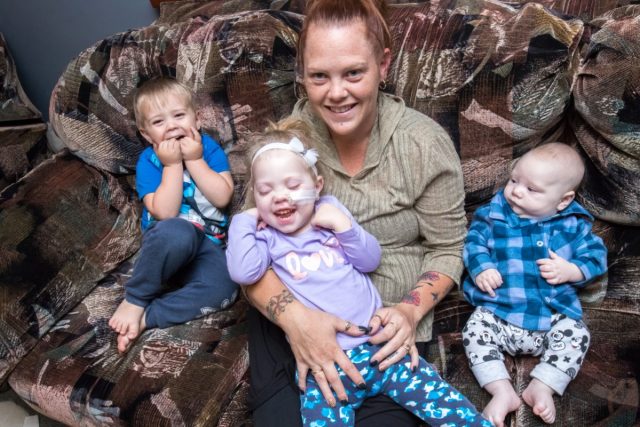 A mother will travel half way across the world with her 13-week-old son in order to get urgent stem cell treatment to prolong his life.
Mundijong mother Tammy McKinlay will fly to Italy in June with her three-year-old son Reid and sick infant Chevan, leaving behind her husband Barry and their two-year-old daughter Kyra for a minimum of three months.
Chevan was diagnosed with Metachromatic Leukodystrophy, a rare genetic disease that has no cure, which results in the progressive deterioration of intellectual functions and motor skills such as the ability to walk, speak, see, eat and hear.
Chevan's older sister Kyra was diagnosed with the same disease in October last year, but Mrs McKinlay said the disease had progressed too far and she can no longer accept any treatment.
"When we first got told about Kyra we were given about two years," she said.
"She is currently getting looked after at Princess Margaret Hospital but there is nothing they can really do for her."
Doctors in Italy will take stem cells from Chevan's body and store them while he receives chemotherapy to help fight off the disease.
They will then replant the stem cells into his body, a treatment process that could take anywhere between three to six months.
Mrs McKinlay said the family was told they would need to raise $60,000 in case anything happened to Chevan while he was undergoing treatment.
A charity ride has been organised by local motorcycle group Guardians of Innocence to help raise money for the cause.
Rider John "Skwid" Hendrikse said the club jumped at the chance to raise awareness and funds after hearing about the plight of Kyra and Chevan from a family friend.
"We are hoping that with the ride we have organised we can get as many of Perth's motorcycling community to come along and raise some of the funds needed," he said.
"On the day 100 per cent of all cash raised will be handed to Tammy, Barry (husband) and their family."
The ride will take place on April 29 from Stratton.
For more information visit the Guardians of Innocence Facebook page.