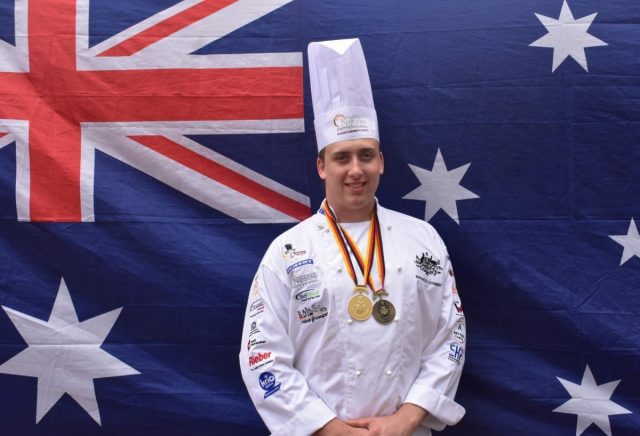 A Kelmscott chef brought home the gold from this year's Culinary Olympics in Germany. 
Maverick Cuthbert was in charge of desserts for the Australian team, which won its first Culinary Olympics gold medal since 2012. 
The team was tasked with making 65 covers of entrée, mains and desserts, totalling 195 dishes in total, and Mr Cuthbert was in charge of desserts for the team. 
"I made 65 chocolate and caramel crème with raspberry, warm blueberry friand, blueberry compote, pistachio soil, blood orange gelato, lemon verbena curd, Crème Chantilly, which the judges enjoyed very much I was told," he said. 
Teams were judged on all three dishes while they worked across the eight-hour non-stop cook, but Mr Cuthbert said the pressure didn't get to them. 
"As a team we just clicked all together at the right time, we worked flawlessly together," he said. 
Feeling a mixture of exhaustion and elation when the team was announced for the gold, Mr Cuthbert said the experience was unforgettable. 
"We were just hoping to get any medal at this level against the best chefs in the world, so a gold sure felt great," he said. 
The 23-year-old chef has spent the last four years training in his own time for the event, and in that time has donated his talents to many different charity functions, such as the Starlight Foundation's signature Five Chefs Dinner and the Breast Cancer Care WA Annual Long Table Lunch, as well as visiting Perth schools to demonstrate cooking techniques and offer tips to aspiring future chefs. 
Cooking has always been a passion and a talent for the young chef, who started his apprenticeship at the age of just 15 and won his first competition at the 2012 Kelmscott Show, where he received best in show for a chocolate slice. 
Mr Cuthbert is currently in charge of the wood fire grill at the Ritz-Carlton Hotel's Hearth Restaurant in Elizabeth Quay, but said he is ready for the head chef position should the opportunity arise. 
The Australian team, now ranked seventh in the world, included chefs Billy Fox and Matt Wills from New South Wales, alongside Tori Pickens, Nattawat Thingdee, Harrison Joyce, Maverick Cuthbert and Team Manager Patrick O'Brien, who are all from Perth.