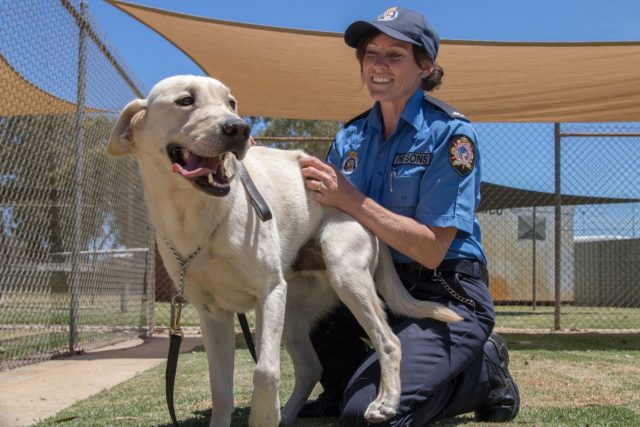 Six past and present dogs from the West Australian Corrective Services Drug Detection Unit were honoured this week with the prestigious National Canine Service Medal as part of the unit's 25th anniversary celebrations.
The dogs received the Australian Defence Force supported Trackers and War Dogs' Association honour, recognising their service to WA prisons.
Corrective Services Minister Fran Logan attended the ceremony at Hakea Prison in Canning Vale on Tuesday morning along with Corrective Services Commissioner Tony Hassall and said the dogs were a priceless service.
"As we saw most recently at Bunbury Regional Prison the work of the Drug Detection Unit's dogs is invaluable in helping to keep our prisons free from substances that endanger prison communities and put our staff at risk," he said.
"The work the dogs do is integral to the WA Prison Drugs Strategy, which not only aims to eradicate misuse of drugs in prisons but to ensure treatment for those battling drug additions and appropriate community support, upon release."
About 295 drug search activities are conducted using drug dogs in WA each month, equating to about 3500 searches a year.
Mr Logan presented dogs Echo, Kai, Spud and Xanthos with their medals.
Another two dogs, Angel and Quinlan were welcomed into the fold after passing graduation. Xanthos was also retired from service.
Also attending the event was retired Drug Detection Unit Coordinator Gail Raven, one of the two founding members of the unit.
Mr Hassall said Ms Raven had played an important role in setting up the unit in 1994.
"She was one of two initial handlers and was an outstanding member of the team, paving the way for the unit's success," he said.
"I would like to congratulate the unit for its incredible work over the past 25 years."
WA's Corrective Services drug dogs, all Labradors, are bred by Border Force and the breeding team is regarded as amongst the best in the world.