Veteran Edward 'Ted' Parry has laid a wreath at every ANZAC Day service for more than 25 years, this year was set to be his last time but the service was cancelled when COVID-19 sent Perth and Peel into lockdown.
Mr Parry was born in Birkenhead, England in 1928; in his first year of life he lost two of his brothers including his twin Wilfred Parry.
During World War Two when Mr Parry was 10 years old, he was evacuated when the Nazis bombed England.
He was evacuated to North Wales where he remained until he was 14-years-old, with the opportunity to visit his parents when he liked.
After the Second World War, Mr Parry was called to the army at age 18 and he was transferred to Palestine at age 19, in 1947 after only six weeks of training.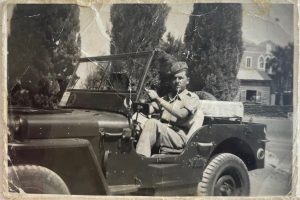 When he was in Palestine, Mr Parry had many jobs including an armed escort carrying secret mail from Jerusalem to Sarafand.
Mr Parry would sit on the back of the truck with a rifle and act as an escort.
"I took the job because it meant no guard duties, no parades and no inspections. Later I realised that I was sticking out like a pimple on the nose," he said.
"Sitting on the back of the truck with nothing but a gun, I was a big target."
Among Mr Parry's most memorable moments in the army was when he was escorting English prisoners from Egypt.
"I left the carriage to go to the toilet when a bomb blew the train up, killing one of the prisoners and injuring the other," he said.
"Some 360 airmen, who were going to join their unit, were killed."
Not long after Mr Parry returned home from service, he met his wife Jean on a double date.
Ted and Jean married in 1951 after dating for five months and moved to Australia in 1966 with their four sons.
Mr Parry has been deeply involved in the Kelmscott ANZAC Day Dawn Service for a number of years as the Parade Commander where he met Navy officer and now Member for Darling Range, Hugh Jones.
"I first met Ted Parry a number of years ago at a Kelmscott ANZAC Day Dawn Service, where Ted immediately put me to work assisting with the running of the ceremony," Mr Jones said.
"Ted was always energetic and especially supportive of the community organisations that attended the ceremonies, including the youth groups, ensuring that they felt included and carried themselves appropriately, barking a few marching orders when required.
"Unfortunately, Ted is no longer able to fulfil his role as Parade Commander at the Kelmscott Memorial and his booming voice is no longer heard, but his legacy of respect for the fallen endures."