World War II veteran and Oldbury resident Lionel Richardson turned 100 on April 20 and is set to receive his 100thbirthday letter from the Queen next month after his celebration was delayed due to the COVID-19 lockdown over the weekend.
Mr Richardson enlisted in the Army in 1937, at age 16 after lying about his age.
He began his service in the fourth Queen's Own Hussars, which was a cavalry regiment in the British Army, which saw service for three centuries including the First and Second World Wars.
When World War II began, Mr Richardson changed to the Royal Engineers Corps, where he drove a tank.
In 1941 Mr Richardson was captured in the Battle of Crete and became a prisoner of war in Austria until the war ended.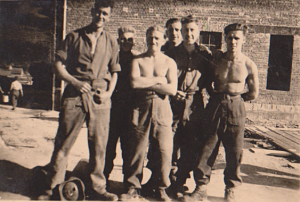 During the transport to Austria from Crete, Mr Richardson and the other captured troops never left the truck.
Mr Richardson's daughter-in-law Lynette Richardson told Examiner Newspapers that when the war was over, the troops holding him captive just opened the gates.
"When he got out, he went back to the farm he was working on and the Russians were there and they looked after them for a few days," she said.
"Then they gave them a car, him and his mate, and pointed them to where the Americans were."
"So they went to where the Americans were and they got two seats on the Boston Bomber that left Crete for Italy, in exchange for the car the Russians had given them."
Mr Richardson rode alongside the carriage at King George VI's funeral in 1952.
The Richardson family immigrated to Australia in 1965, arriving by aeroplane through the Assisted Passage Migration Scheme, often referred to as 'Ten Pound Poms.'
British migrants assisted by this scheme were called Ten Pound Poms due to the payment of £10 in processing fees to migrate to Australia.