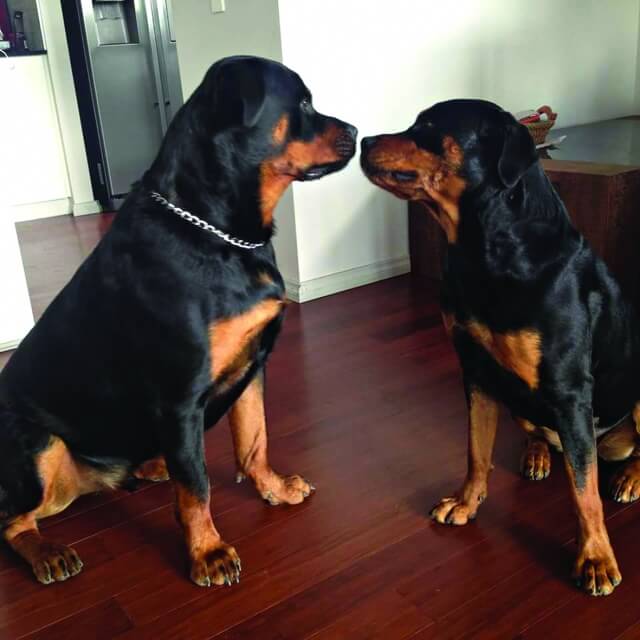 A Mount Richon woman whose two dogs went missing earlier this month fears they were taken and desperately wants them back.
Lee-Anne Kenyon said her beloved four-year-old Rottweilers Missy and Brock
escaped from her property on Colyer Rise on May 11.
Witnesses said they believed they had seen the dogs in the nearby Bungendore Park at the time but attempts to locate them have been unsuccessful.
A number of people, including volunteers from the SES who were training in the area, had searched the bushland for the dogs but have never been found.
A resident said she had seen two dogs in the bush since but whether it was Ms Kenyon's dogs remains a mystery.
Missy and Brock had been with the family for years and had grown up with young children.
Ms Kenyon said some of Missy's hair had gone grey and that might help searchers identify her.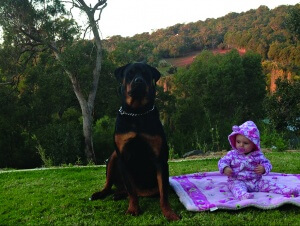 She said the two dogs had unusual identifying features such as toe nails which 'stood up' which might help identify the animals.
Ms Kenyon said she was trying everything she could to find to find her dogs.
"We've organised search parties, we've had volunteers from the fire brigade go into the bush and look," she said.
She said a social media post calling for any information had been seen 50,000 times and she had been contacted from people across the world asking if the dogs had been located.
"There's just no sign of them. People have sent drones up over the bush area to try and locate them, but still nothing – they see a lot of kangaroos and wildlife but no dogs."
The story had been run on a major Perth radio station and Ms Kenyon said she and her partner were stressed to their limits not knowing what had happened to their dogs.
"They are big sooks and they need their nightly cuddles," she said.
"We want everybody who has spent hours outside in the bush searching for them, to the people who keep sharing the posts on social media and the people around this community, to know just how thankful we all are for their help so far.
"It has absolutely amazing to us how much help we have received and we are thankful to be living in such an wonderful community."
A cash reward was offered for the safe return of the dogs and anybody who had any information regarding their whereabouts could contact Ms Kenyon on 0478 350 229.
If you have seen the dogs and are not comfortable approaching them, the Armadale ranger can be contacted on 9394 5000 during office hours and 1300 886 885 after hours.