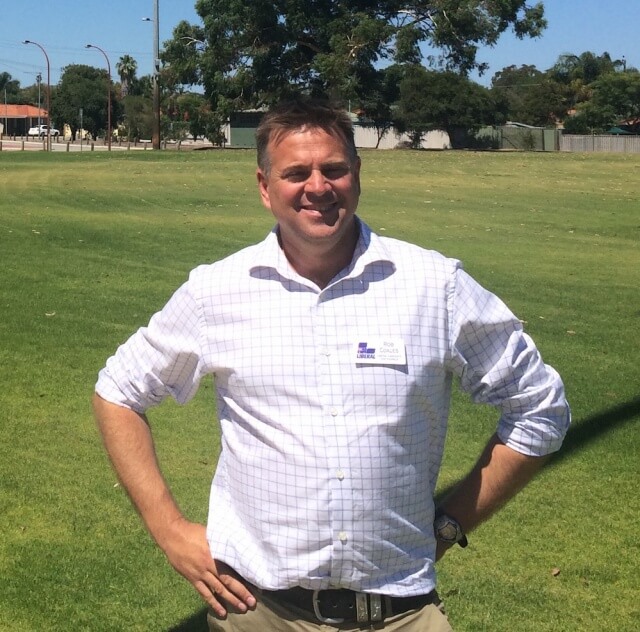 The City of Gosnells has been allocated funding for two major projects under the Community Sporting and Recreation Facilities Fund grants.
The city will receive $438,697 towards the cost of installing a synthetic hockey surface at the Sutherlands Park in Huntingdale and $321,163 to upgrade the floodlighting at Berehaven and Cassidy Ovals at Walter Padbury Reserve in Thornlie.
Liberal candidate for Thornlie Rob Coales said the Liberal National Government has invested $1,149,807.80 in the KidSport program within the City of Gosnells since 2008.
"A community can come together around sport," he said.
"Quality facilities are important as they create an opportunity for clubs to strengthen their sport and attract more members."
Mr Coales congratulated the City of Gosnells on receiving the funding and said he looked forward to the project coming to fruition.
City of Gosnells mayor Olwen Searle welcomed the announcement saying it would significantly benefit a number of sports groups and their players.
"The synthetic hockey surface at Sutherlands Park will be the first in the City of Gosnells," she said.
"The floodlighting at both the Berehave and Cassidy Ovals will be raised to Australian standards."
Ms Searle said the city, as part of a long-term vision for quality public open space, had worked hard to identify ways to improve the function of all parks, including sports reserves and to encourage better use of these spaces to provide a better experience for users.
"The projects at Walter Padbury Reserve and Sutherlands Parks are a great example of how the can partner with the community and state government to make this happen," she said.
A total of 16 projects in the metropolitan area will benefit in this round of CSRFF grants.
The next CSRFF small grants round opens on February 1 and closes March 31.
For more information visit dsr.wa.gov/funding/facilities-(csrff).