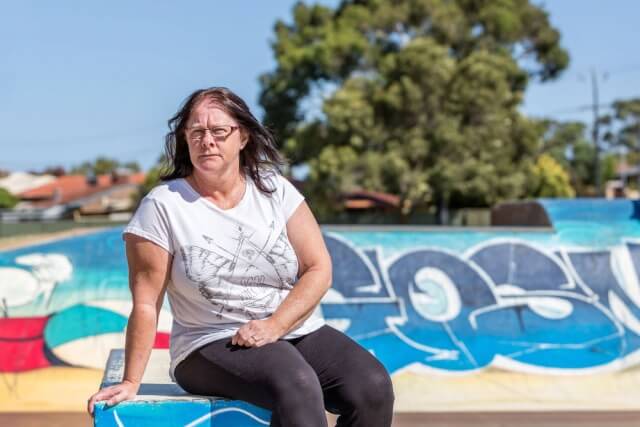 A trip to the skate park near Burner Street in Gosnells turned into a nightmare for two teenage boys when a man with a machete allegedly threatened them on January 10.
The boy's mother Paula said she went to pick her sons up from the skate park a little after 8.30pm when she saw a group of boys all standing together.
"My youngest son came up to me and said mum we've been robbed and I thought yeah right, whatever," she said.
"I soon realised my 14-year-old son was not joking around.
"Phones got stolen, house keys, clothes, car keys and a Bluetooth speaker."
It has been alleged a man approached the boys asking them for drugs and when they told him they did not do drugs or have any on them he allegedly took out a machete and threatened them before proceeding to steal their personal belongings.
Paula said she was upset and angry.
"This is not on," she said.
"This needs to stop.
"This isn't the first time this has happened before at the skate park and people are too scared to do anything about it and it should not have to be that way."
Paula said she called 000 and the police came out to the skate park where an alleged chase ensued but the offender was not caught.
"Something needs to be done," she said.
"My boys are shaken but at least they are okay but when you threaten someone's life it's not on."
Paula said she contacted the Department of Housing as the man lives in a public housing property and she said she also spoke to Labor candidate for Southern River Terry Healy who had been advocating on her behalf.
"Paula knows first hand the impact the meth crisis is having on people's lives," he said.
"We need comprehensive, across government strategy that focuses on reducing supply and also on prevention, treatment and rehabilitation.
"I have written to the local council, local police and the Department of Housing."
Department of Housing acting general manager Trevor Gregory said the housing authority was a housing provider and landlord, not a law enforcement agency.
"Housing is only able to take action on criminal activity where a breach of the Residential Tenancies Act 1987 has occurred," he said.
"There is no breach of the RTA when a tenant commits a crime such as assault or theft away from their rental property.