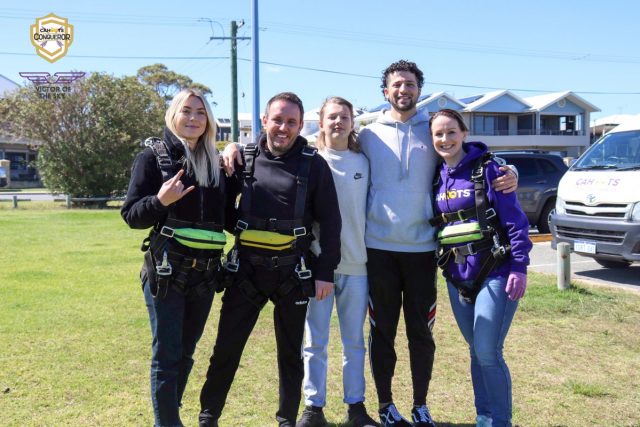 The generous employees at the not-for-profit Byford District Country Club, have raised $7500 through a sky-dive fundraiser for Cahoots, which is a charity and National Disability Insurance Scheme (NDIS) provider.
Cahoots provides a range of inclusive services throughout the year, and caters to people of all abilities aged five-years-old and over.
Last year the staff from BDCC raised money for Cahoots when they abseiled down a building in Perth.
This year the staff conquered a new fear, and participated in a sky dive.
The general manager Ray Carey, administration manager Tayla Chance, board member Leah Horton, food and beverage supervisor Kendall Dunn and food and beverage attendant Zain Jeffrey all took the plunge.
Miss Chance said Cahoots chose the Sky Dive for the fundraiser and BDCC took on the challenge.
"The charity creates a yearly event last year it was abseiling and this year it was sky diving so we didn't choose the event but we decided to participate to fundraise money," she said.
"Everyone was super excited and a little bit nervous but it was the most amazing experience we've all ever had.
"This is our second year fundraising for Cahoots but we do plan on continuing in the upcoming years.
"We really love what they do and what they provide for children and families in need."