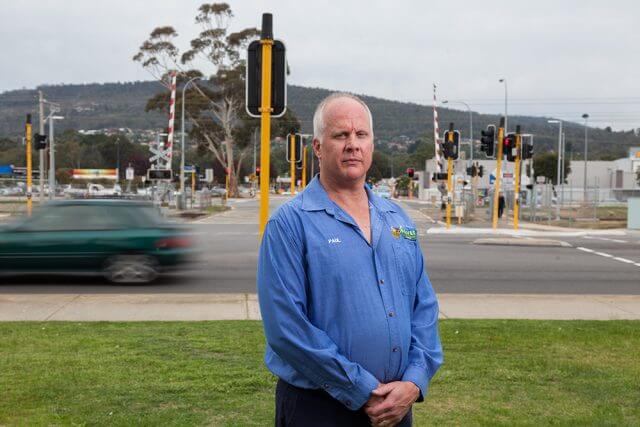 Congestion in the Kelmscott CBD and on Denny Avenue is hurting businesses in Kelmscott, according to Business Armadale president Paul Harrison.
Mr Harrison said potential customers on the western side of the rail line in Camillo, Seville Grove and Kelmscott were turned off the prospect of shopping in Kelmscott because of the difficulty of getting there.
"Businesses have told me about the difficulty for customers parking, the difficulty in them getting there along Denny, it's all blocked off so you need to go right the way around the block just to get to where you want to go."
Mr Harrison, also the owner of Beaver Tree Services, said his workers could lose precious work time if they had to travel across the Denny Avenue level crossing.
"If I have a job in Kelmscott and they're driving to Kelmscott they can lose 15 to 20 minutes each time, I send guys on jobs specifically so they don't have to cross the line," he said.
He said while the Armadale CBD had received lots of development over the past decade Kelmscott had been forgotten and he encouraged the City of Armadale and Metropolitan Redevelopment Authority (MRA) to commit to a solution.
"In terms of business the trick is revitalising Kelmscott and actually thinking bigger picture so they move this underpass or overpass somewhere else and they can really tidy this whole area up," he said.
"Armadale has gotten a fair lick over the years and not much has happened along here.
"Private investors will spend money where the infrastructure is going."
An underpass at Davis Road has been identified as a solution to Denny Avenue's congestion woes for more than a decade but it has a hefty price tag and no state agency has ever committed to it.
Denny Avenue wasn't on the City of Armadale's radar either with chief executive Ray
Tame saying it was focused on the North Lake Road bridge project.
"We still need to focus on Armadale Road as funding is not yet secured," he said.
"Denny Avenue is much more problematic, both from a funding perspective and determining the best alternative.
"We cannot get a precise estimate for the Davis Road option, and have been quoted figures ranging from $40 million to $80 million.
"The city is working with the MRA regarding the upgrade of the Kelmscott CBD, with Denny Avenue as a major infrastructure element.
"The Denny Avenue rail crossing is not a local government project and will be relying on federal or state funding to bring it to fruition."
The MRA is developing a new report and masterplan for the Kelmscott CBD, which is expected to address traffic issues.
It was asked when the documents would be finished but did not respond before deadline.
Despite being less than 200 metres long all three intersections on Denny Avenue appeared in the City of Armadale's worst intersections list and it is one of the worst level crossings for accidents in Perth.