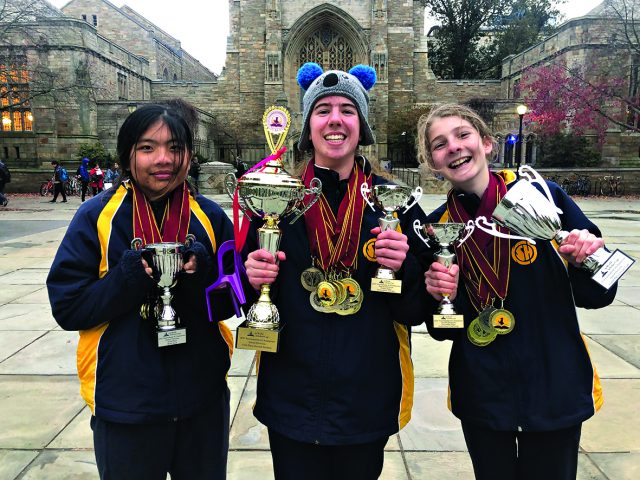 Three students from Kelmscott Senior High School have trumped others from across the globe in an international academic competition which took place in the United States earlier this month. 
Emma Johnson, Aerin Graziani-Murray and Franziene Ledsey travelled to Connecticut with their teacher Hayden McKenna on November 5 to take part in the World Scholar's Cup Tournament of Champions. 
Mr McKenna said the students competed in four competitive events – team debating, collaborative writing, scholar's challenge and scholar's bowl which required them to draw on the things they have learnt across the year in subjects such as social studies, literature, science, art and music. 
The three girls brought their absolute A-game to the competition and returned home with a barrow load of honours including five trophies and 32 medals across all of the events. 
The team placed eighth out of a staggering 333 teams from around the world and year eight student Emma achieved the highest individual score out of any student in the junior division to be awarded Champion Scholar.
"It was an amazing feeling when Emma was announced as the winner," Mr McKenna said.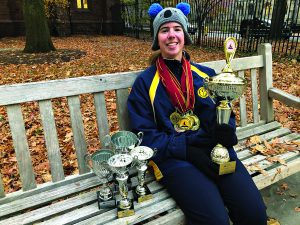 "When they started announcing the top individual students they started at number 200 and given how Emma had performed in each event and the number of trophies she had won I was confident she would have made the top 200 easily. 
"Then it got to the top 100 and her name still hadn't been called out and then the top 50 and then the top 10 and then the top five. 
"Eventually they had named the number two top student and it still wasn't Emma. 
"And then, teasing it out as they do they said that the number one student was from Australia and that they were from Perth and that they were from a school with alpacas and next thing you know, that are calling out Emma's name as the individual champion." 
A total of 2000 students from 60 countries competed at the World Scholar's Cup and Kelmscott Senior High was joined by other West Australian schools including Sacred Heart College, Iona Presentation College, St Mary's Anglican Girls' School, Kinross College and John XXIII College.