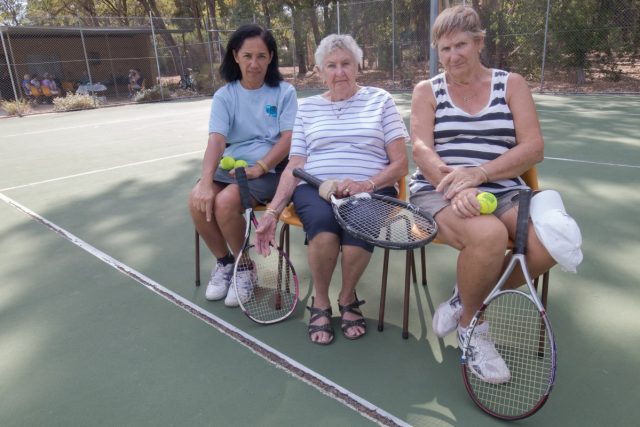 Members of Byford Tennis Club are forced to continue playing on substandard shire-owned courts after council decided this week to continue discussions about the necessary works at a future meeting. 
The asphalt tennis courts on Park Road were originally constructed in 1981 and were resurfaced in 2002 and then repaired again in 2017. 
However today the surface is looking worse for wear with significant cracking on the courts surface, indicating that the facility is in need of remediation works to increase its useful life span. 
Funds were allocated in the Shire of Serpentine Jarrahdale's annual budget in 2016/17 financial year, however according to the shire president Michelle Rich, the money was returned to the shire's municipal funds and the work was not carried out. 
Councillors debated the courts renewal at Monday night's council meeting with lengthy and robust discussion over the courts' future. 
Councillor Rob Coales put forward an alternate motion to go ahead with the resurfacing works under the shire's Major Grants Scheme, however after much toing and froing, the alternate motion was voted down. 
The officer's recommendation to support in-principle the need for the resurface of the courts and to consider the project at the shire's Corporate Business Plan Review Process was then voted on and was won. 
Throughout the discussions, Mr Coales vigorously supported the work to go ahead, stating there was a desperate need for these facilities in the old part of Byford. 
However shire president Michelle Rich described Mr Coales alternate motion as "ad hoc planning and ad hoc spending" and stated that the shire should be chasing the funding to complete a full redevelopment of the facility to give it a greater life span, which is expected to cost between $150,000 to $170,000. 
Byford Tennis Club secretary Julie Howe said the club was grateful for the support of councillors Keira McConkey, Bill Denholm and Rob Coales, but were very disappointed at the outcome. 
"This has been discussed for more than four years now, with no conclusion," she said.
"The surface of the courts is continuing to deteriorate due to incorrect materials used years ago and this is causing large cracks to open up, which is dangerous to players. 
"Our club compromised with the shire at a recent meeting and agreed to making the courts more accessible and changing the courts to multi-use by adding basketball lines and a backboard to make any expenditure more worthwhile so that more of the community could utilise the courts.
"This is the time for decisions, not more discussion."