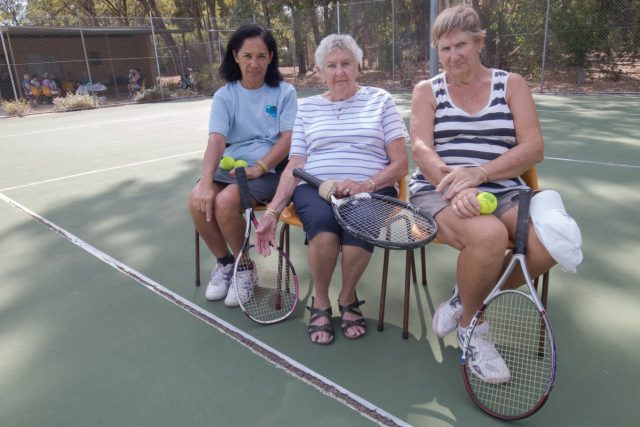 Local tennis players have one simple message for the Shire of Serpentine Jarrahdale – please resurface our courts. 
The Byford Tennis Club has operated a ladies club every Wednesday morning since 1982, with the members utilising the Park Road facilities. 
The facilities are also utilised by other members of the community throughout the week with tennis coaching for primary school-aged children a major highlight on the courts. 
Secretary Julie Howe said the club has been advocating for the courts to be resurfaced for the past few years without success. 
"Shire representatives have inspected the courts and even though they have recognised the need for urgent repairs to the court's surfaces and there were funds allocated in the shire's annual budget in 2016/2017, they have not gone ahead with the much needed work," she said. 
"We have therefore been forced to apply for shire grants to achieve our goals, with the help and encouragement of our local member Alyssa Hayden." 
Ms Howe said the club's members maintain the clubrooms, garden and surrounding area, as well as keeping the courts clean and game ready. 
The members also supply the tennis poles and nets for the shire-owned facility. 
"The club is not just for fun and fitness, but also for women of all ages to come together and enjoy the regular social contact," she said. 
"These women might otherwise feel socially isolated and the club has been wonderful for their health and wellbeing. 
"Their children and grandchildren have also been able to participate and enjoy the wonderful sport of tennis and during the 
school holidays there are sometimes three generations playing on the same court." 
Shire President Michelle Rich said $15,000 was set aside in the 2016/17 budget for the repairs, however this money was returned to the shire's municipal funds. 
"In 2016/2017 the shire undertook some works at the courts including the patching of key areas, removal and repair of puffball areas and drainage improvements to prevent pooling of water in winter," she said. 
"The shire is actively working with the Byford Tennis Club to develop a strategic plan and scope of works for the resurfacing and future use of the courts at the Park Road facility. 
"This will enable the shire to work in partnership with the Byford Tennis Club to consider possible funding opportunities to undertake any resurfacing works that may be required."