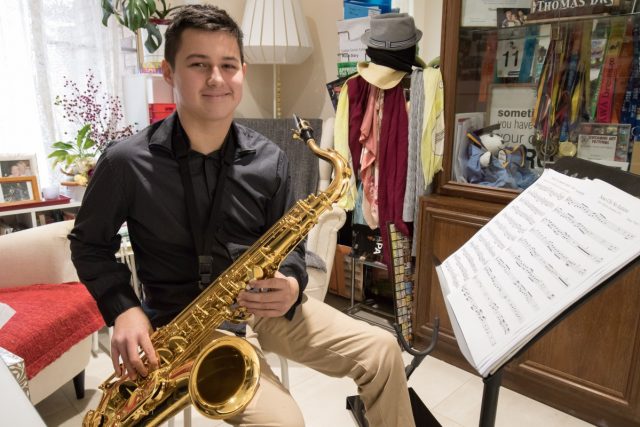 Thomas Rogers faces more challenges than most young people his age.
The 14-year-old lives with spinal dysraphism affecting his spine, but nothing can stop his passion and aspirations of becoming a professional saxophone player.
After picking the saxophone three years ago and learning how to read music notes, the Huntingdale resident found something that would help him switch off, improve his mood and calm him down when he is struggling with his condition.
Even though his condition makes it more difficult to play, the one thing Thomas wouldn't trade for anything is his saxophone, and this is why he is applying again for a Variety WA Hearts Scholarship.
The Variety WA Hearts Scholarships helps children who are sick, disadvantaged or living with disability and who have a passion and talent in a particular extracurricular activity such as art, sport or education.
Thomas had previously applied for the scholarship and was awarded with not only a brand new saxophone but also the opportunity to attend the summer school holiday program at the West Australian Academy of Performing Arts (WAAPA) and help with his tuition and lessons for his Australian Music Examintions Board (AMEB) exam.
Thomas' mum Marilou Rogers said playing the saxophone has really helped him.
"He is a lot more confident now and Thomas proves every day that he's more than the disability and can play like everyone else," she said.
"He really just shines when he plays."
The St Norbert College student is playing both in and outside of school and he is also a member of the South Lions Youth Jazz Band.
Thomas' parents applied for a Variety WA Hearts Scholarship, in the hopes of giving Thomas the best chance of pursuing his talent and love of the saxophone.
Thomas is currently assessed to sit for the grade 3 Australian Music Examination Board in November at the University of Western Australia, music scholarship for saxophone at St Norbert College and recently received a merit award at the Catholic Performing Arts.
Ms Rogers said Thomas sees his future teaching, performing, busking around Perth and Fremantle and attending jazz improvisation gigs.
In the past, scholarships have supported pursuits as diverse as wheelchair basketball, horse riding, synchronised swimming, dancing and opera singing.
Applications for the Variety WA 2020 Hearts Scholarships close on November 18, so if you know a talented young person in need of support, jump online and apply at www.variety.org. au/wa/scholarships/.