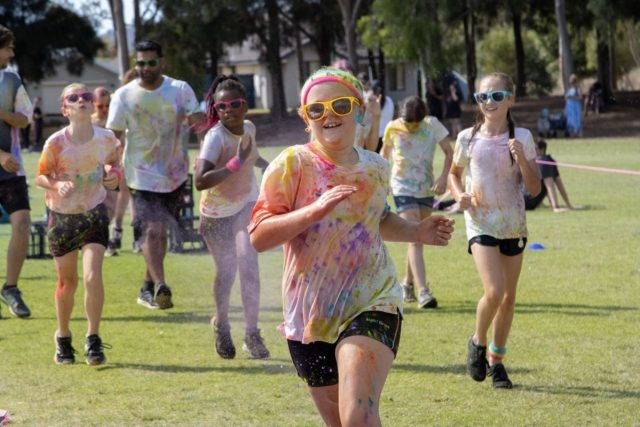 New basketball courts and more shade sails for the school was the focus of a unique fundraiser run by Marri Grove Primary School's P&C last Thursday.
The fundraiser was a colour run held by the P&C and was the first major event of the year to help raise money.
Fun visual and interactive obstacles were part of the run for the kids including hay bales, giant pencils and ice cubes to weave through.
There was also giant Minecraft & Mario gaming props and giant pinwheels & lollipops decorating towards the finish line.
"We had coloured sunglasses and headbands for all the kids and volunteers on the day too," fundraising coordinators Ree and Gemma said.
"As COVID19 interrupted a lot of our fundraising ideas we really want to amp it up this year, make our events more fun and interesting and really get our Marri Grove community on board," they said.
"We have a very diverse community at Marri Grove and it's sometimes hard to find what suits families in terms of fundraising for the school.
"We're hoping the colour run let our families know what our goal is and really kicked off a great year for everyone."
It took a lot of time and energy from the fundraising coordinators Ree and Gemma as well as the P&C President Danielle.
"Both Gemma and I along with our P&C president Danielle have worked really hard come up with the extra ideas and put them into action," Ree said.
"We have made almost everything, and out of recycled materials."
Marri Grove Colour Run. Photographs - Aaron Van Rongen