A local couple went platinum last week when they shared their 70th (platinum) wedding anniversary in Kelmscott.
Ted and Jean Parry met in Birkenhead in England when Mr Parry was working on the railways and Mrs Parry was a nurse at the hospital.
The couple were married on March 31, 1951 and their first son was born the following year at the same hospital Mrs Parry worked at as a nurse.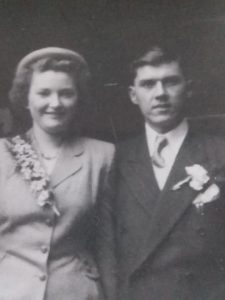 Mr Parry was a defence force officer in the British Army during the Second World War, where he was located in Palestine protecting Jewish citizens.
Emigrating in 1966, the Parry family brought their four boys aged six, 10, 12 and 14 to Australia where they purchased their first home in Kelmscott.
They bought their home three months after they arrived in Australia and have remained in the same residence ever since.
For some time, the Parry's moved to Kambalda as Mr Parry went to work in the mines, before they returned to Kelmscott when he retired at 66 years of age.
Between their four sons George, Edwin, Iorwerth and Gareth, the Parry's have 18 grandchildren and 18 great-grandchildren currently.
The entire family is made up of multiple cultures, with 19 different nationalities including Maori, Italian, Aboriginal and Irish.
The Parry's commitment to the community over the years has been immense.
The couple both received long service medals from St Johns Ambulance after volunteering for more than 25 years as a nurse and an ambulance driver.
Mr Parry was also the Drill Major for the ANZAC and Remembrance Day Ceremonies for 25 years until Mr Parry passed the honour on last year.
The Parry family spent their anniversary with their family, who often visit daily, according to their son George.