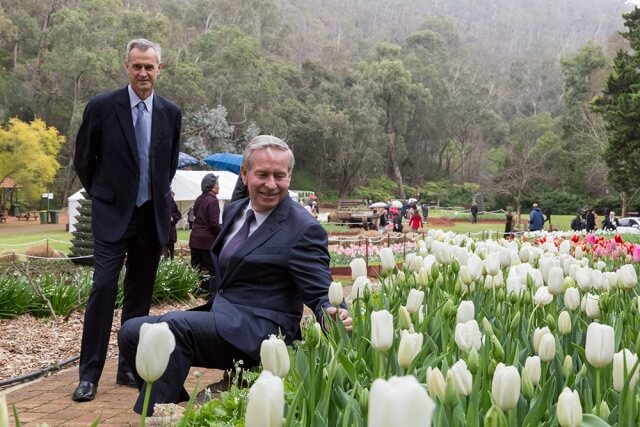 With a colder than usual winter and plenty of rain, this year's Araluen Botanic Park springtime festival promises to be one of the best in recent history.
Premier Colin Barnett officially opened the festival on Friday amongst the 125,000 tulips and other spectacular flowers.
Mr Barnett said he had a special affinity for the park and in particular the tulips.
"My mother used to always talk about Araluen and…the park dates back to the 1930s, she came here as a young girl and loved the place," he said.
"My sister Lorraine and I, in the late 50s and 60s, mum would always bring us up here.
"Tulips have some what of a special meaning to me, particularly for my wife Lyn.
"We were married over 30 years ago and we didn't have any money, surprising as that might sound, we were broke and we got married in Brisbane because Lyn's parents were there at the time.
"It was probably the smallest, the tiniest wedding you would ever see, there were only a few people there, it was very much a private family wedding.
"We only had one indulgence, that was white tulips, Lyn loves tulips and she loves white tulips.
"That was the single indulgence, they were everywhere, and the rest of it was absolutely basic cheap wedding.
"Tulips always mean something to us so it's great to see them coming out now."
Araluen Botanic Park Foundation general manager Grant Nixon said the foundation had worked hard to get the tulip bulbs in the ground and the park up to scratch for this year's festival.
"Our horticultural staff have created winding pathways throughout the park enticing visitors to not only experience the tulips but the variety of exotic plant species," he said.
"It's been a great cold winter so that means our flowers have been perfect timing wise.
"Last year they were two weeks earlier than this, there are 125,000 tulips, the park's looking beautiful and the creek is running really well because of the rainfall.
"This year's festival encourages visitors to take a journey through the park experiencing some of the less travelled pathways."
The festival runs until September 20.
Visit araluenbotanicpark.com.au for more information.