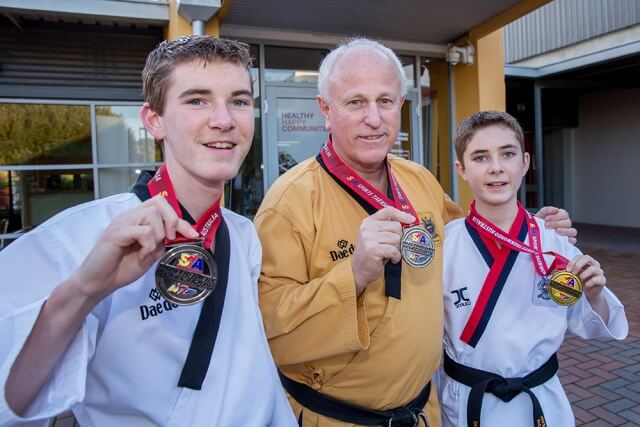 Byford Oh Doh Kwan Taekwondo competitors are proving they have what it takes after coming away with 10 medals at the state championships and earning three places in the national team.
The Byford competitors who contested last month's championships took home five gold medals, three silver and two bronze.
Meanwhile 12-year-old Brent Bouwhuis is set to compete with the Australian team at the World Taekwondo Poomsae Championships in Lima, Peru between September 29 and October 2.
Taj Bouwhuis, 16, and Head Instructor Master Neil Brickwood will compete with the Australian team in the Oceania Championships in Suva, Fiji between November 26 and 28.
Mr Brickwood said he was proud of the club's achievements and how hard his students had worked.
"We've got some kids who work very hard – they're always working on their technique," he said.
Mr Brickwood said he and his students would be training hard in the lead up to the international competitions.
He said aside from the chance to compete at high levels Taekwondo also encouraged personal development.
"The advantages of Taekwondo is that it teaches confidence, self-defence, it gets you fitter, more flexible and it balances you as a person," he said.
"Then of course if they do want to go on and become competitors they get to go on and travel all around the world.
"You get to make friendships worldwide and that's the thing I've really enjoyed about it because I've competed in Vietnam, India and places like that – it's fantastic."
The club runs several classes a week at the Byford Recreation Centre in Mead Street.
Visit taekwondoohdokwan.com.au.