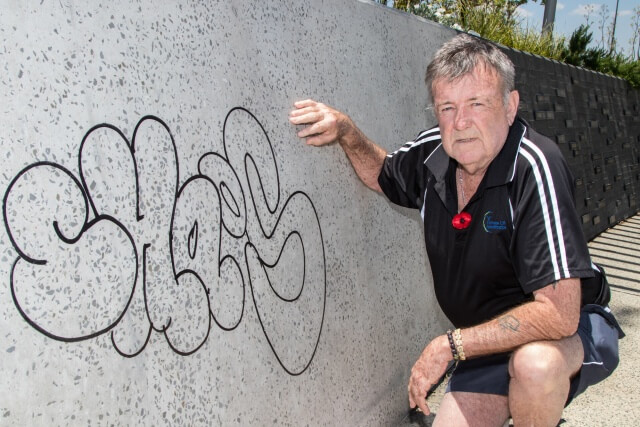 Serpentine Jarrahdale RSL president Rick Giblett was shocked to receive a call from Byford Glades developers LWP telling him the Anzac Park memorial in the area had been graffitied.
It was not the first time the memorial had been vandalised with the statue of the lighthorseman having had both stirrups removed, the riffle in his scabbard and bayonet removed and his sword ripped off earlier this year.
Mr Giblett said when he received the call a week away from Remembrance Day commemorations he was angry, upset and disappointed.
"This is desecration of the people who have paid the ultimate sacrifice," he said.
"We have to safeguard their memory but the graffiti says your service is worthless and it demeans their sacrifice."
He said he could not understand what the vandals had against those who had died for their country.
"Why can they not remember their sacrifice and be respectful of the soldiers who have paid with their lives."
Mr Giblett said the RSL had offered a substantial reward to any information leading to the vandals who remain unknown except for their tag, which read the word 'chaos.'
Mundijong Police Station Senior Staff Sergeant Daryl Brandis said the police had a graffiti database and kept a look out for personalised tags to be able to apprehend the offenders.
"One of the best things to do is to remove the graffiti immediately so that it doesn't attract other taggers," he said.
"The act of graffiti could include imprisonment for two years and is something that the government and the authorities are very serious about."
LWP Developers senior project manger Kellie Howell said she was disappointed and sad especially with Remembrance Day being on Friday.
"I don't think it was a crime out of malice towards soldiers but one of opportunity," she said.
"It's sad that they had total disregard for the memorial."
Remembrance Day, on November 11, commemorates the day the guns fell silent more than 100 years ago marking the end of the Great War.
At the 11th hour on the 11th day of the 11th month a minute's silence is observed, a sombre moment to reflect on the lives given for the freedoms enjoyed today.