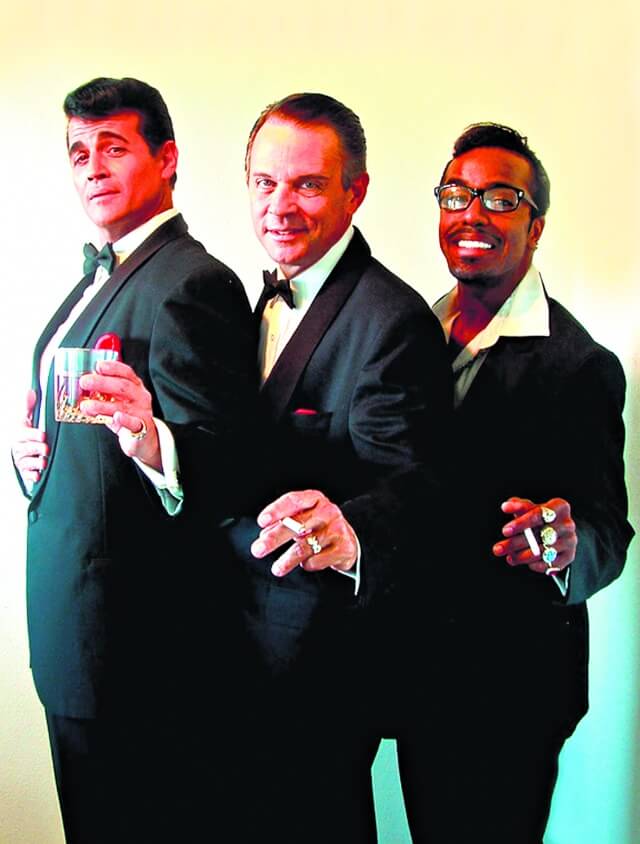 The Rat Pack from Vegas, consisting of Frank Sinatra, Dean Martin and Sammy Davis Junior are heading to our shores in December.
Well not really, but three of the best impersonators of the infamous trio will be returning to Australia direct from a sell out tour of the US and the UK.
Robbie Howard, who plays Frank Sinatra, Johnny Edwards as Dean Martin and Nicholas Brooks as Sammy Davis junior will play at the Astor Theatre.
All three performers have a long history of impersonations, acting and singing.
Johnny Edwards who plays Dean Martin says the trio were bound to perform together.
I have known Robbie Howard for about 15 years and we all met in Las Vegas and when you are working in tribute shows your paths are going to cross," Mr Edwards said from his office in Las Vegas.
"We got paired up together and we hit it off and we have been friends since then and when Nicholas came on board he was part of the tour.
"The opportunity came up to do a show in Australia and Robbie and I sat down and came up with a show that was different form a show we were already doing.
"We all had a love and respect for our characters and it's one thing that makes the show successful and we love the characters we are portraying.
"We want to give the audience the best portrayal at the height of their career and when they were at the top of of the charts and that makes us work even better together and being on tour."
Johnny Edwards says his family was a major influence in turning him onto music and entertainment, particularly his famous cousin.
"I grew up having Cyndi Lauper in my life and that was the greatest thing," he said.
"Cyndi taught me to take chances in music and art.
She really used to baby sit for us when our parents were out and her and I are middle children and we understood each other better.
"I idolised her because she was so talented in music and art and a chance taker and I remember on Sundays she used to put on shows with her sister Ellen and sing with guitars and a hand made guitar stand and it amazed her that I can remember that.
"When I started feeling out whether I was going to be an entertainer she was encouraging and told me I have to take chances and people who don't take chances don't succeed."
Mr Edwards grew up in an Italian neighbourhood in Brooklyn, New York and said it was a trip to Las Vegas that changed his life.
"I was on vacation in Las Vegas in 1993 and never went back.
"I never really pushed because when you grow up in an Italian family in Brooklyn you just work in New York and eventually retire in Florida and that is it.
"I remember being at the pool and my wife told me I had an audition with Legends in Concert as Elvis in Vegas and they asked me what were my chances as working in Vegas as Elvis?"
"I learned the business from the ground up, if I had any questions Cyndi was always there in terms of my direction. She always wanted me to be my own performer because I enjoy the whole thing of impersonating someone.
"You have to be a comedian, an actor and singer all at once."
Mr Edwards said he is really looking forward to coming back to Australia with his co-stars and says he wants the audience to really get involved in the show.
"The audience is my inspiration and being able to connect and to make them laugh and applaud and have a good time is what it's all about.
"In our show we like people to know we are having a party and they are invited. "If they feel like getting up and dancing to a song go for it. It is a celebration of a different time."
The Rat Pack from Vegas plays at the Astor Theatre in Perth on Saturday, December 17. For bookings call 1300 111 369.