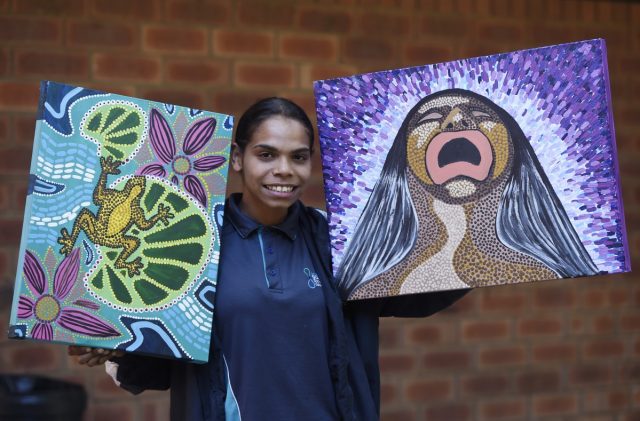 A Southern River College year 11 student is off to Melbourne where she will be acknowledged in the Young Australian Art Awards for her artworks The Frog on the Lilypad and My Scream.
With a number of accolades accumulated over the years Taya Parfitt was also named Indigenous Artist of the Year in 2017 in the same awards event and honoured as a finalist in the 2018.
"It's surprising, exciting, overwhelming and a little bit nerve-wracking but at the same time I'm proud that I'm going to Melbourne again," she said.
The Frog on the Lilypad is Taya's Aboriginal painting based on a frog. "All forms of natural living species are important in my community and we need to show that we respect them," she said.
The Frog on the Lilypad recently won the Sandfire Resources Indigenous Art Award and Taya was named runner-up as Young Indigenous Artist of the Year.
She also won the Echo Resources Indigenous Art Award for her work My Scream.
"For this acrylic painting on canvas I wanted to show an emotional feeling of an Aboriginal woman and wanted it to be very expressive and powerful," she said.
Taya said it actually depicts herself expressing her anger towards injustice and unfairness in society.
"I chose the best way to show my face and I did the painting in an Aboriginal style which is my favourite style and the style of my cultural background," she said.
"I love painting, it's a big part of who I am and I really enjoy trying new ideas, styles and techniques.
"At the moment I'm working on a painting that explores the powerful connections between mother and daughter, it should be finished soon."
Head of arts Dusty Ward said Taya is a talented artist and her striking designs have proven incredibly popular within the community.
"She has a very bright future ahead of her in the arts," she said.