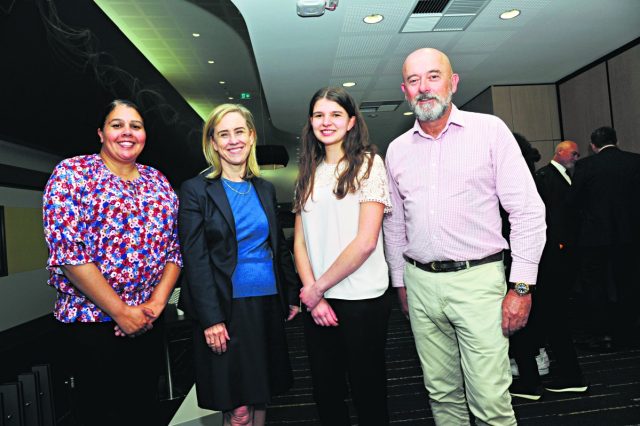 Women in leadership were the focus of a forum hosted by Hugh Jones MLA at Byford Secondary College on Tuesday, with guest speakers providing food for thought on the challenges and achievements of women in Western Australia.
Minister for Women's Interests Simone McGurk MLA opened the speeches, and spoke about the 2022 Women's Report Card – an indicator report of Western Australian women's progress in the areas of health and wellbeing, safety and justice, economic independence and leadership.
Accomplished Aboriginal artist and Primary School Deputy Principal Rosie Paine followed at the podium, discussing the challenges of growing up in a remote community, becoming the second person in her family to complete Year 12 and her passion for education and love for culture.
Rosie emphasised the importance of surrounding yourself with a supportive mob, which protects you from negativity.
The final speaker was 17-year-old Byford Secondary College student Ellie Birch, who's speech centred around role models for young women.
Ellie highlighted that anyone can be a role model, and that young people should identify positive traits they admire in people and adopt them.
The young student leader, who represented Darling Range in the WA Youth Parliament earlier this year, admitted some discomfort in considering herself a role model at a young age, but said she was aware that her own behaviour influenced others, and that had a positive influence on her own decision making.
Participants at the event were also asked to bring along a bag containing women's essential items for donation to Share the Dignity and the Uniting Church Byford Crisis Care, with a raffle being drawn to win a commissioned painting by Rosie Paine to commemorate the Women in Leadership event.
Women's Interest Minister Simone McGurk said events such as these were powerful.
"They bring women from across the Darling Range community together to talk about the important issues facing women, and I commend Hugh Jones MLA for hosting it," the minister said.
"Gender equality benefits everyone in our society – it makes good business sense, increases productivity, and supports not just women, but families, the broader community and the economy.
Member for Darling Range, Hugh Jones MLA thanked all of the attendees, making special mention of the "wonderful" guest speakers.
"I was conscious of the need to assemble a diverse group of speakers who would appeal to the audience and would draw insightful observations and questions," Mr Jones said.
"I would also like to thank Principal Paul Jones and the staff of Byford Secondary College for providing a superb venue.
"I will continue to promote and support individuals and community organisations that advance gender equality in the electorate."