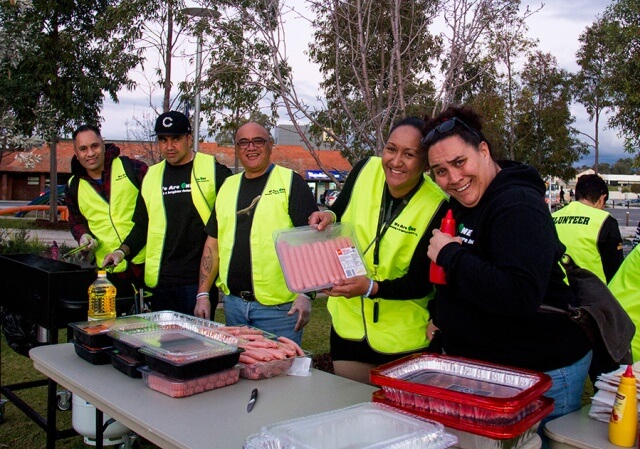 Helping the homeless comes easily for Freedom and Tihema Patene, who were once themselves destitute and living on the streets. Robyn Molloy caught up with Mr and Ms Patene to find out what motivates the founders of Seville Grove and Kwinana-based charity We Are ONE to work tirelessly for those in need.
It is only recently that Freedom and Tihema Patene have told their families they spent a bleak 11 months living on the streets of Perth in 2010-11, newly arrived from New Zealand.
Ms Patene has also told how she was stabbed and almost died, except that a homeless man came to her rescue.
Prior to the attack she was suddenly on top of the world, having just attended a job interview at a hairdressing salon and was waiting at a bus stop when approached by a female asking for $1.
After handing over her last $5, two women attacked Ms Patene, stabbing her in the abdomen.
A man came to her assistance and she was rushed to hospital, lucky to be alive.
Later she and Mr Patene, now both 31, returned to the house outside where the attack occurred and discovered her helper was a homeless person, squatting in the house near the bus stop with his family.
"They ended up taking us in that day and showed us the ropes," Mr Patene said.
"We'd been starving on the streets and didn't know how to get food."
They couldn't tell their families until recently, it would have hurt their pride too much.
"Oh they knew nothing about what we went through until one day we were just having a family event last year and it kind of came out then," Mr Patene said.
"That's when they found out."
Ms Patene: "We asked them for money (at the time) and they said 'what for', we said for T's white card and they didn't help," she said.
"We never told them nothing, not even our siblings. I came from a good background, I was head girl of our intermediate and yeah, we were known to the community for doing such good things for youth back home."
Mr Patene: "Back home I was working for a Christian radio station and was a producer for a Christian company as well."
Ms Patene: "I don't think we wanted to tell anyone aye."
Mr Patene: "So being homeless over here we didn't want to tell anyone because it was more of a bit of a pride thing. They saw us as pretty successful people back home."
Both involved in the music industry, Mr Patene arrived in Perth in July of 2010 to further his career and Ms Patene joined him in September, even though Mr Patene had told her not to come as things were not going well.
"But I thought, no, it has been three months, three long months I am coming," she said.
"I paid for my ticket and came over and within two weeks we were homeless and that was in Leederville, Ray Street, we had savings but it was hard to find something."
They spent 11 months on the streets moving from suburb to suburb before transitioning to cars and vacant rooms.
"We then got a job and saved up for a week and got a car and then we slept on the streets in the car for six months and then we found a vacant room," Ms Patene said.
"Another two months later and we did one night in the bedroom and one night in the car, then two nights in the bedroom and one in the car and then one night, so we slowly tried to wean ourselves out of the car. So it took about a year and a half."
It was from this time that they gained such an insight into what is needed by the homeless.
In 2014, so thankful to the family that helped them and in recognition that compassion on the streets was desperately needed, they decided to start helping others living on the streets too.
After officially becoming a charity in July, We Are ONE is now focusing on helping homeless people with employment, training, emergency housing and support.
"We have met with a lot of service providers to fill the gaps," Ms Patene said.
"And then what we do is go out on the streets and contact local businesses, Centrelink, local commerce, police, councils and we liaise that way.
"The people we find have nothing, we have to give that one-on-one support and it's not like just today, or once a week, it's consistent until they get a home, a job, employment and see their family. It is that continued support they need."
Word of mouth has been strong for the charity, which has more than 180 volunteers Australia-wide and organises help when notified of someone in need, often within the hour.
To find out more or to join in fundraising activities, search for We Are ONE Building a Brighter Future on facebook or email weareoneregister@gmail.com.