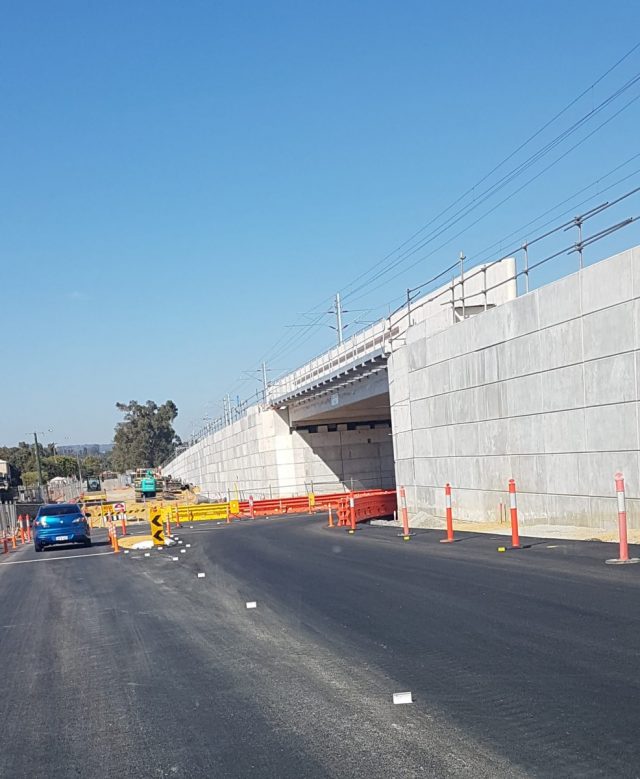 The Denny Avenue works are coming to a close with the Davis Road underpass now open for travel.
After the Denny Avenue level crossing and boom gates were formally removed on Thursday April 1, the Davis Road rail over road pass was officially installed.
A long history of fatalities and accidents has plagued Denny Avenue which led to the roadworks which commenced last year.
Member for Armadale Dr Tony Buti said the train line has divided Kelmscott for 130 years.
"The train line has divided Kelmscott for 130 years but commuters can now travel underneath the tracks line from one side of Kelmscott to the other," he said.
"While traffic management is still in place, it's clear the new Davis Road underpass will save time and improve safety. It also presents new opportunities for town centre revitalisation and beautification."
"Some residents in my electorate have been using Denny Avenue level crossing for more than 50 years. Their patience through the years and during construction has been phenomenal."
Residents are excited for the new underpass with many noticing it's finished.
Taking the excitement online, many said they didn't know they could use it yet.
"Looks awesome – both contractors and traffic management have worked hard," one local said.
"I was trying to get to spud shed and where I wanted to turn left was blocked off, so I asked the nice bloke at the roundabout," another said.
"When he said, go back to the second roundabout and turn left and go under tunnel I thought he was kidding. Amazed."
The change seems to be welcome by the residents of Kelmscott, who have been advocating for the removal of Denny Ave over the past decade.