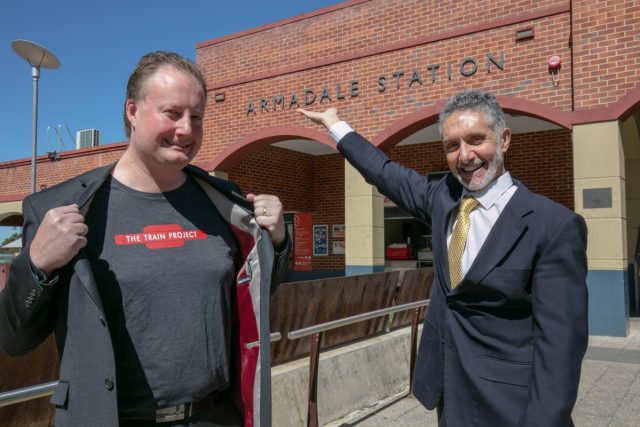 For more than a decade, the Armadale train line seems to have made headlines for all the wrong reasons – touted as a dangerous place and a haven for those of ill intent.
Though an incident could have occurred at any of the 20 stations along the 30-kilometre line connecting Perth's CBD with the south-eastern suburbs, it is almost always identified as 'the Armadale line' – something many local figures believe has contributed to the city's unfavourable reputation.
But few among the City of Armadale's rapidly growing population know just how critical the train line has been to its development since opening in the late 1880's, and that's something two prominent local politicians are hoping to change.
For months, City of Armadale councillor and resident Colin Campbell has been working tirelessly on 'The Train Project' – a four-stage proposal aimed at creating a sense of community ownership.
Mr Campbell said the negative perception about the train line, coupled with the community's exponential growth, meant many did not know about the role it played in the city's rich history or feel a sense of ownership over stations that used to serve as important community hubs.
"The stations are functional – they're well lit, they're clean generally and everything is working, but they're fairly soulless," he said.
"They're treated like a piece of state infrastructure, but they're real hubs for our community.
"Very few people regard it as their train line and there is no real sense of ownership.
"There seems to be a perception that people are waiting on local, state or federal government or business to provide a fix, when in reality, it's going to take everyone working together.
"When you shine a light on what is hidden, things that like hiding in the shadows scatter and beautification and ownership is the first step.
"It's about taking the sting out of the Armadale line and taking away the negative, because I don't believe it's fair."
Preliminary discussions have already been had with several community groups about their involvement in the beautification of the stations, from planter boxes on platforms to local schools adopting a station and supplying artwork.
The idea has also been well-received by government agencies and Transport Minister Rita Saffioti.
The next step will be transforming the stations into nodes for the heritage of the area, but stages three and four would require significant financial investment and government support.
Member for Armadale Tony Buti said he was thrilled to be part of an initiative designed to counter the negative image of the train line, which has been a phenomenal part of the city's history.
"This is about countering the misperceptions about Armadale while getting the community engaged in our history and image," he said.
"We've already had discussions with Minister Saffioti's office which have been positive, and she is someone with a historical and emotional connection to the area.
"I do understand the bureaucracy surrounding projects like this can sometimes difficult, but having a strong community base behind it makes the conversation a lot easier.
"I commend Colin Campbell on this initiative."
The community meeting on 'The Train Project' has been postponed until a later date.