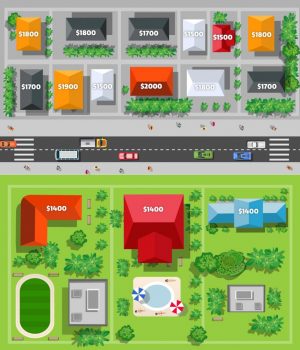 Property owners across the Shire of Serpentine Jarrahdale are up in arms this week following a major overhaul of the rating process that could see significant increases for up to one-fifth of its ratepayers. 
More than 2300 of the shire's residents received letters late last week with an estimate of what their rates may be if the proposed changes to the current rating structure were to be implemented.
Many residents, some of whom are pensioners, reported increases of anywhere between several hundred dollars to tens of thousands of dollars on their annual rates bill. 
The move, which is unprecedented in nature and scale, was prompted by a council decision earlier this year to undertake a $40,000 review of rates equity within the shire in a bid to rectify what it describes as the "unfair distribution" of the rate burden. 
The decision was supported by all but one councillor, with councillor Rob Coales warning the move was ill-considered and would carry significant implications.
Examiner Newspapers understands a portion of the properties identified are between 4000 to 50,000 square metres in area and predominately used for residential or commercial purposes, but have been paying rates as if they are a primary producer, while the vast majority are identified as being residential by the State Government. 
The shire refused to be drawn on exactly how much additional revenue the increase was expected to generate for the shire, nor how the extra funds would be spent, information that is not expected to be clear until a report is presented to the council.
But outraged residents plan to file objections to the proposal, arguing that the move is insensitive in the wake of the financial pressures posed by the COVID-19 pandemic, while others insist they should not experience an increase without access to basic shire services. 
In fact, there are already talks that more than 100 residents plan to gather to rally against the decision at a meeting this Saturday.
One local business owner, who did not wish to be named, said their rates were set to increase by more than double and expressed concerns about the impact the move could have on the shire's medium to large-scale businesses. 
"It's just wrong and I want to know how they came to this arrangement, where they got their intelligence to justify this," they said.
"I hold grave concerns for the impact that this could have on medium to large-scale businesses, many of which employ local people. 
"The shire is singling out businesses and they will go elsewhere, they don't understand the implications of this in three to five years time." 
Residents affected by the proposal now have just two weeks to file objections to the proposal, which are expected to be included in a report to the council. 
Shire President Michelle Rich defended the proposal, saying that the properties identified as potentially not paying their fair share in rates had resulted in the remaining 9,700 ratepayers paying a larger share of the 'rate burden.' 
"A key aspect of providing value-for-money for rates requires a fair and equitable distribution of the rating burden," she said.
"Rating equity is not a new issue for the shire, with records about this matter going back to the year 2000. The growth in the shire and changing ways properties are being used has contributed to this situation. 
"Ordinarily changes to the use of properties would be addressed annually as part of normal business on a case-by-case basis, however, this has not occurred for some time at the shire." 
Shire officers are expected to present a report to council in early 2021 to consider community feedback and deliberate on the nature of any potential changes to the rating structure. 
For more information, contact the shire's Rates Department at info@sjshire.wa.gov.au or on 9526 1111.